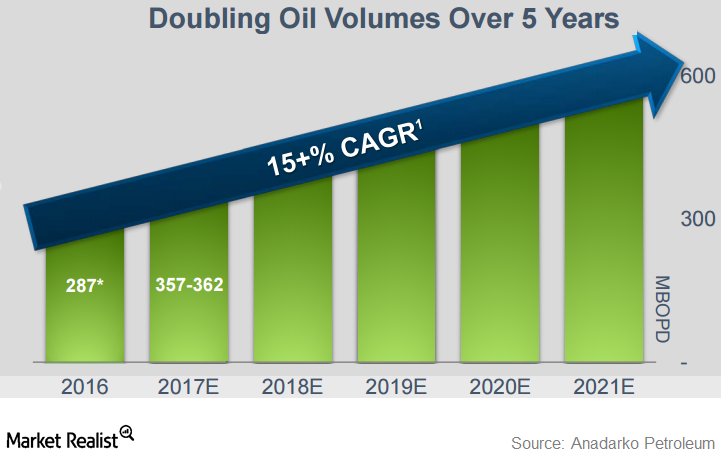 Anadarko Petroleum's Production Expectations for 2017
Anadarko Petroleum's oil growth forecasts
Anadarko Petroleum (APC) expects to double its oil production to at least 600 Mboepd (thousand barrels of oil equivalent per day) from 287 Mboepd in 2016. The forecast for oil volumes for 2017 is 357 Mboepd–362 Mboepd.
Anadarko has forecast a CAGR (compound annual growth rate) of 15% in its oil volumes between 2016 and 2021. This forecast is based on prices assumptions of $55 per barrel for WTI (West Texas Intermediate) and $3 per thousand cubic feet of natural gas.
Article continues below advertisement
Anadarko's 2017 production guidance
Anadarko has forecast a ~13% YoY (year-over-year) rise in its production in 2017, a decline of 31% from 2016.
In the company's 1Q17 earnings release, management stated that "the first quarter of 2017 provides a clear picture of the power of our streamlined portfolio and the three 'Ds', with record oil sales volume, significantly improved margins and strong cash flow." The "three D's" refer to Anadarko's operations in the DJ (Denver-Julesburg) and Delaware basins, and the deepwater portion of the Gulf of Mexico. These regions will get the bulk of Anadarko's planned capex this year, which we'll discuss in the next part.