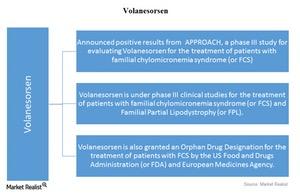 Akcea Therapeutics' Volanesorsen: 1Q17 Performance
By Mike Benson

Jun. 13 2017, Updated 7:36 a.m. ET
Volanesorsen
Ionis Pharmaceuticals's (IONS) volanesorsen is a drug designed to reduce apolipoprotein C-III production and triglycerides in patients with dyslipidemia.
Akcea Therapeutics, a wholly owned subsidiary of Ionis, is engaged in pre-commercialization activities for volanesorsen, and will take care of the drug's commercialization once it is approved by the FDA and the European Commission. The drug is classified for use in severe and rare therapeutic areas.
Article continues below advertisement
APPROACH – the phase III clinical study
On March 6, 2017, Ionis Pharmaceuticals and its subsidiary Akcea Therapeutics announced positive results for APPROACH, a double-blind, randomized, placebo-controlled, phase III study for evaluating volanesorsen for the treatment of patients with FCS (familial chylomicronemia syndrome). The study evaluated the safety and efficacy of a weekly dose of 300-milligram Volanesorsen for 12 months for around 50 patients.
Presently, volanesorsen is the focus of phase III clinical studies for the treatment of patients with FPL (familial partial lipodystrophy) and has been designated as an orphan drug for the treatment of patients with FCS by the FDA and the European Medicines Agency.
To divest company-specific risks, investors could consider funds such as the Fidelity MSCI Health Care ETF (FHLC), which has a 0.2% exposure to Ionis Pharmaceuticals. FHLC also has a 2.9% exposure to Biogen (BIIB), a 2.1% exposure to Abbott Laboratories (ABT), and a 0.7% exposure to Humana (HUM).