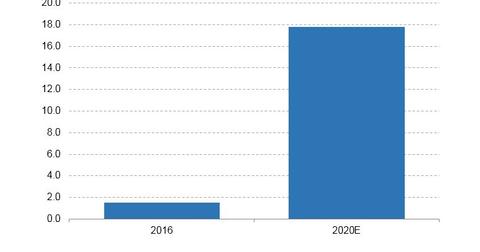 Advanced Micro Devices Enters the AR/VR Zone
By Ruchi Gupta

Updated
Wireless VR and AR devices
Advanced Micro Devices (AMD) made a move in the AR/VR space when it acquired Nitero in April 2017. Nitero is a startup that specializes in developing chips to support wireless connectivity in VR (virtual reality) and AR (augmented reality) systems. Among the tech giants, Apple (AAPL) and Facebook (FB) seem to concur that the prospects of these systems present a solid opportunity in the VR and AR markets.
Article continues below advertisement
A $17.8 billion market
Research firm SuperData estimates that the worldwide market for VR hardware alone could shoot sharply from $1.5 billion in 2016 to $17.8 billion by 2020. Technological advancements are expected to further fuel the growth of this market, as improved technology and more efficient production could lead to a better user experience and lower prices.
Profiting from next-generation VR/AR systems
Advanced Micro Devices (AMD) is focusing on the VR/AR market with its acquisition of Nitero. One of the reasons that adoption of this technology has been slow is that existing devices are difficult or uncomfortable to use for many consumers. These devices feature a lot of cables, which can complicate the setup process.
The technology that Nitero is developing seeks to solve this problem. The successful improvement of this technology could allow AMD to participate in the VR/AR economy. AMD could also unlock rapid consumer adoption of VR/AR products, leading to an even larger market for AMD's technology.
Sidestepping the competition