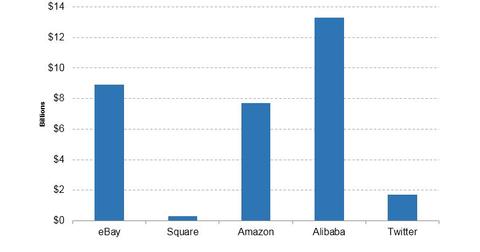 A Quick Financial Survey of eBay
By Neha Gupta

Updated
How much debt is eBay carrying?
eBay (EBAY) is carrying total debt of $8.9 billion, calculated by adding its long-term debt of $6.8 billion and its short-term debt of $2.2 billion. Considering that the company has total capital of $20.6 billion, its ratio of total debt to total capital comes to 46%.
eBay's peers Square (SQ), Amazon (AMZN), Alibaba (BABA), and Twitter (TWTR) have total debt of ~$0.3 billion, ~$7.7 billion, ~$13.3 billion, and ~$1.7 billion, respectively.
Looking at the company's debt in relation to its assets, equity, and EBITDA,[1. earnings before interest, tax, depreciation, and amortization] its debt-to-assets, debt-to-equity, and debt-to-EBITDA ratios are 0.36x, 77.3x, and 3.1x, respectively.
Can eBay easily pay interest on its outstanding debt? The answer lies in examining the company's EBIT-on-interest ratio, also called the interest coverage ratio, which in this case is 10.3x. This ratio sheds light on the company's ability to pay interest on its debt.
As for debt on the economic value of the company, eBay has a debt-to-enterprise value of 22%.
Article continues below advertisement
Inside eBay's price and valuation multiples
eBay's current book value per share of $10.70 compares with its expected book value per share of $10.50. eBay stock is trading at a price-to-book value of 3.3x.
The company's price-to-sales ratio of 4.2x also compares with its estimated price-to-sales value of ~4.0x.