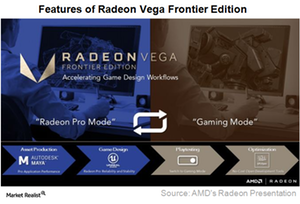 A Look into AMD's New Vega Frontier Edition GPU
By Puja Tayal

Jul. 3 2017, Updated 6:42 a.m. ET
Radeon Vega Frontier Edition at a glance
Advanced Micro Devices (AMD) is in the process of launching several next-generation products across all product ranges. Its most recent launch is the much-awaited Vega GPU (graphics processing unit).
On June 27, 2017, AMD released its Radeon Vega Frontier Edition card, a professional GPU aimed at scientists, content creators, and developers. The card is designed to support the unique workflow of advanced design visualization, game development, and deep learning algorithms.
AMD plans to release two versions of its Radeon Vega Frontier Edition: the 300-watt air-cooled version would be available in markets beginning July 1, 2017, and the 375-watt water-cooled version will be available in 3Q17, according to AnandTech.
Article continues below advertisement
AMD stated that it would release a consumer variant of the Vega GPU for mainstream gamers in July 2017. The company plans to combine its Vega GPU with its Ryzen CPU (central processing unit) to offer a powerful gaming laptop that delivers a PC-like gaming experience. NVIDIA (NVDA) and Intel (INTC) are also launching gaming laptops.
Processing speed
AMD's Radeon Vega Frontier Edition card has 4,096 stream processors organized into 64 compute units that support double-rate 16-bit math. This helps the card deliver 13.1 TFLOPS (tera floating point operations per second) at FP32 single precision and 26.2 TFLOPs at FP16 half precision. This accelerates video processing, ray tracing, and AI (artificial intelligence) computations.
AMD stated that the Vega chip has a "typical clock speed" of 1,382 MHz (megahertz) and a boost clock speed of 1,600 MHz.
Article continues below advertisement
Memory
The Vega chip features a 16 GB (gigabyte) HBC (high-bandwidth cache) memory built on a 2,048-bit memory interface that delivers 483 Gbps (gigabytes per second) of memory bandwidth. HBC can cache external memory and storage devices, giving the Vega chip access to up to 256 TB (terabytes) of virtual memory. Moreover, Vega has NVM (nonvolatile memory) Express ports that can connect up to 2-TB of additional flash capacity to the GPU accelerator.
Dual-mode drivers
The Vega GPU features dual-mode drivers that allow users to switch between pro applications and video game acceleration. For this, AMD merged the pro and gaming driver into a single package to give game developers access to both types of acceleration.
Pricing
According to AnandTech, Vega Frontier's air-cooled version would be priced at $999 and the water-cooled version at $1,499.
Apple (AAPL) stated that it would use AMD's Vega Frontier GPU in its new line of iMac Pro as it looks to tap the VR (virtual reality) market. TechNavio expects the VR content market to grow at an average annual rate of 127% through 2020 and PCs to be the preferred platform for content creation.
Next, we'll look at the performance of the Vega GPU in VR.