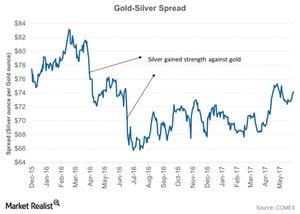 A Look at the Gold-Silver Ratio in June 2017
By Meera Shawn

Jun. 23 2017, Updated 3:35 p.m. ET
Gold versus silver
When we look at the precious metals market and compare gold and silver, it's important to assess their relative price movement by using the gold-silver spread. Over the past one-month period, gold has dropped ~0.8%, while silver has dropped 4.8%. Although silver mostly follows the same trend as gold, its volatility far exceeds that of gold.
The chart below explains the price fluctuations in the gold-silver spread since December 2015.
Article continues below advertisement
The gold-silver ratio
The gold-silver ratio, or spread, measures the number of silver ounces it takes to buy a single ounce of gold. In other words, this ratio represents the price of gold in terms of silver.
On June 19, the gold-silver spread was 75.1, which indicates that it takes almost 75 ounces of silver to purchase one ounce of gold. This spread has increased considerably over the past one-month period. 
The gold-silver spread touched a peak of 85 in late 2008. The RSI level of the gold-silver ratio is 80.8, suggesting a possible pullback in the spread. An RSI reading above 70 indicates a fall in price, while an RSI reading below 30 indicates a rise in price.
A drop in the spread indicates comparative strength for silver (SIVR) against gold (SGOL).
Mining shares that are significantly impacted by gold, silver, and the overall mining industry include Alacer Gold (ASR), New Gold (NGD), Hecla Mining (HL), and Kinross Gold (KGC).