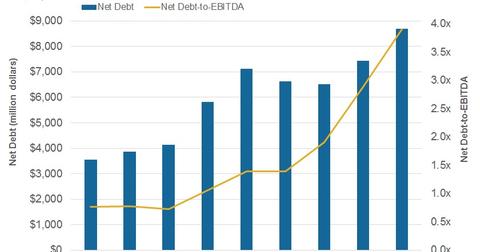 A Look at Phillips 66's Leverage Curve Trend
By Maitali Ramkumar

Nov. 20 2020, Updated 4:05 p.m. ET
Phillips 66's leverage compared to peers
Phillips 66's (PSX) leverage ratio, its net debt-to-EBITDA (earnings before interest, tax, depreciation, and amortization), stood at 3.9x in 1Q17, which was higher than the average industry ratio of 2.2x. The industry average considers ten American refining companies. The ratio shows the company's debt as a multiple of its earnings.
In 1Q17, PSX's total debt-to-capital ratio stood at 30.0%, which was below the industry average of 38.0%. Debt-to-capital ratio shows the percentage of debt in a company's capital structure. PSX's peers Valero Energy (VLO), Marathon Petroleum (MPC), and Tesoro (TSO) have total debt-to-capital ratios of 29.0%, 38.0%, and 44.0%, respectively. For further details, you can refer to Refiners' Leverages in 1Q17: Who's Best Placed—MPC, TSO, VLO, or PSX?
Article continues below advertisement
Phillips 66's leverage curve: Net debt-to-EBITDA rising
PSX's net debt-to-EBITDA ratio rose from 0.80x in 1Q15 to 3.9x in 1Q17. Before analyzing the increase in the ratio, let's look at the net debt trend.
PSX's net debt rose from $3.6 billion in 1Q15 to $8.7 billion in 1Q17. Net debt rose due to a rise in total debt and a fall in cash. Its debt rose sharply in the past few years due to its volatile refining earnings, growth activities, and shareholder returns (dividend and share repurchases). Phillips 66's total debt and cash stood at $10.2 billion and $1.5 billion, respectively, in 1Q17.
Its EBITDA fell from 1Q15 to 1Q17 due to a volatile refining environment, leading to lower refining earnings. So a rise in net debt coupled with a fall in EBITDA resulted in a steep surge in the net debt-to-EBITDA ratio.
What does Phillips 66's leverage analysis suggest?
Phillips 66's total debt-to-capital ratio is lower than the industry average, which is a favorable scenario. However, due to its capex (capital expenditures) activities and volatile refining margin environment, the company has increased its debt, which has led to its net debt-to-EBITDA ratio moving above the peer average. Now it's vital for Phillips 66 to monitor its debt levels so it can maintain its financial strength and flexibility.
In the next part, we'll analyze Phillips 66's cash flow.