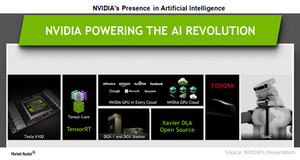 A Look at NVIDIA's Strategy for Artificial Intelligence?
By Puja Tayal

Updated
NVIDIA's artificial intelligence product portfolio
Previously in this series, we saw that NVIDIA (NVDA) is currently at the forefront of the AI (artificial intelligence) revolution. It aims to develop end-to-end AI solutions, including architecture, processors, systems, system software, deep learning SDKs (software development kits), and algorithms. NVIDIA's 2017 GPU[1.graphics processing units] Technology Conference presentation was largely focused on its new AI offerings.
Article continues below advertisement
Volta-based Tesla V100
At the GPU Technology Conference, NVIDIA unveiled its next-generation Volta architecture, designed specifically for AI. The first processor to be designed on Volta is the Tesla V100, which would be its fastest and the largest processor to date, with 21.1 billion transistors on an 815-square-millimeter die. The V100 processor is engineered for deep learning training and inferencing.
Intel's (INTC) Xeon Phi processors and Advanced Micro Devices' (AMD) Radeon Instinct GPUs are trying to catch up with NVIDIA's Tesla GPUs. However, NVIDIA has more AI products than competitors.
DGX systems
NVIDIA launched its Pascal-based DGX AI supercomputer system in 2016, which was received well by the industry. Facebook (FB) installed 24 DGX-1 systems. The chip supplier is set to launch the DGX system on its new Volta architecture by the end of calendar 3Q17. A Volta-based DGX system would feature eight V100 GPUs and be priced at $150,000. The company will support its Pascal-based DGX customers in their transition to Volta-based DGX systems.
Article continues below advertisement
DGX Station
NVIDIA has also announced DGX Station, directed at researchers who require an actual server at their workstations. DGX Station is a complete end-to-end system featuring GPUs and software required for AI and support for all popular frameworks.
NVIDIA's data center products ideal for AI
NVIDIA aims to develop GPUs that can deliver accelerated computing in an algorithm-driven world. The company's AI products can be accessed on popular open-source platforms such as Google's Tensorflow or Facebook's Caffe2. Its software stack can be downloaded from the cloud on any GPU system (Titan X, DGX, or HGX), allowing users to adopt NVIDIA's GPUs in any permutation or combination. Next, we'll look at the company's efforts to improve AI adoption.