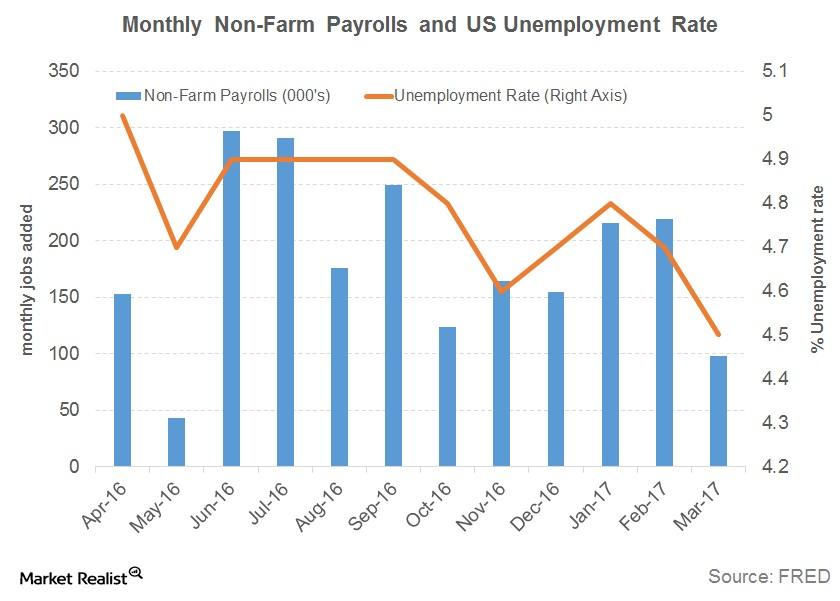 Your May FOMC Meeting Update
By Ricky Cove

May. 5 2017, Updated 2:58 p.m. ET
Fed leaves rates unchanged
The FOMC has stuck to the script written by markets (SPY) and left interest rates unchanged at its May meeting. The two-day meeting began on May 2, and a statement was released after the meeting concluded. There was no press conference after the meeting, and a FOMC meeting that isn't followed by a press conference usually doesn't result in any major announcements. Market participants look for any signs of future rate hikes (HYG)(JNK) or policy announcements in the statement. This month, the US Fed left policy rates unchanged with a 0.75%–1.00% target range.
Article continues below advertisement
The Fed's view on the US economy
The FOMC May statement acknowledges the slowdown of the US economy (USMV) in the first quarter but calls it a transitory affect. The outlook for next quarter remains optimistic. The Fed statement acknowledged solid job gains and modest household spending and tried to downplay the Q1 slowdown. The opening of the FOMC statement reads, "Information received since the Federal Open Market Committee met in March indicates that the labor market has continued to strengthen even as growth in economic activity slowed. Job gains were solid, on average, in recent months, and the unemployment rate declined. Household spending rose only modestly, but the fundamentals underpinning the continued growth of consumption remained solid. Business fixed investment firmed. Inflation measured on a 12-month basis recently has been running close to the Committee's 2 percent longer-run objective."
Series outline
In this series, we will analyze the May FOMC meeting statement and see if we have a rate hike coming in June. We'll also talk about the Fed's view on inflation, its balance sheet, risks in the US economy, economic trends, and the market's (ITOT) reaction to the May FOMC meeting statement.