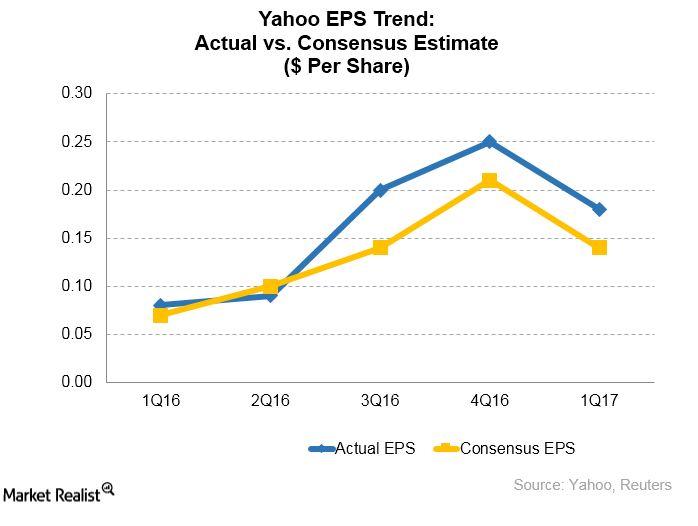 Yahoo Sale: Is There a Place for Mayer?
Understanding change of guard at Yahoo
Yahoo is set to begin a new life as a part of Verizon (VZ). It will be bundled together with AOL under a newly created entity with a funny name: Oath. The sale of Yahoo to Verizon is expected to close in June after months of delays amid hacking hiccups. Verizon accepted the deal after Yahoo lowered its price tag by $350.0 million, though Verizon had sought a discount of $925.0 million off the originally agreed-upon buyout price of $4.1 billion.
Article continues below advertisement
No place for Mayer in Altaba
Verizon is buying Yahoo's media assets such as Yahoo Finance and Yahoo Sports. After Yahoo sells these operations to Verizon, it will change its name to Altaba, which will be the holding company for Yahoo stakes in Alibaba (BABA) and Yahoo Japan.
Marissa Mayer, who has led Yahoo since June 2012 when she was tapped from Google, now part of Alphabet (GOOGL), will have no leadership place in Altaba, according to the company's recent regulatory filing. It had earlier disclosed that Mayer would leave its board after Yahoo completed the sale to Verizon. It seems Mayer won't have a place in Albata, as the company has already named Thomas McInerney, a Yahoo board member since 2012, as its CEO.
Yahoo's media operations together with stakes in Alibaba and Yahoo Japan generated adjusted EPS (earnings per share) of $0.2 on revenue of $1.3 billion in 1Q17, beating consensus estimates that called for EPS of $0.1 on revenue of $1.2 billion. The above chart shows Yahoo's quarterly EPS trend.
Likely no place for Mayer in Verizon
Verizon, which is set to stir up more competition against Comcast (CMCSA) and Dish Network (DISH) in the media industry, could also give Mayer a wide berth. According to Recode, Tim Armstrong, the CEO of AOL, will lead Oath, suggesting Mayer won't join the new entity.