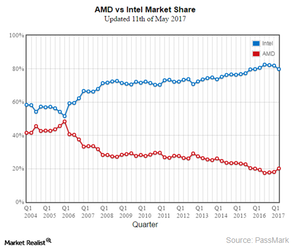 Will Ryzen Help AMD to Gain Market Share over Intel?
By Puja Tayal

Updated
Ryzen road map
Advanced Micro Devices (AMD) stock has been rising due to the hype surrounding its new Ryzen CPUs (central processing unit) and its ability to compete with Intel's (INTC) CPUs. However, moderate growth expectations have brought some correction to the stock's price. Investors are concerned about the financial impact of these new products.
Stock market volatility aside, the key to a successful business is its product portfolio, and AMD has an aggressive road map for its Ryzen CPUs. So far, it's been on track with this road map.
Article continues below advertisement
Reviews of Ryzen
Initial third-party reviews showed that AMD's Ryzen 7 performed better than Intel's Core i7-7700K in multi-threaded tasks but underperformed it in single-threaded tasks. According to the Geekbench Single-Core benchmark, Ryzen was 14% slower than Core i7-7700K when clocked at 3.6 GHz (gigahertz).
Ryzen 5 delivered similar results, as it's built on the same eight-core architecture as Ryzen 7 but with two cores disabled to bring product segmentation. The Ryzen 3 will have only four cores, as the other four will be disabled.
AMD gains market share 
All major e-tailers in North America, Germany (EWG), and the United Kingdom saw their Ryzen 7 stock sell out in March 2017. An article on Wccftech referring to Passmark data stated that AMD had gained 2.2% market share in the CPU market, increasing its overall market share to 20.3% in 1Q17. This was the first time since 1Q14 that AMD had gained market share against Intel. However, the overall rise in its market share in 1Q17 was less than 1%.
A 2.2% share rise in its CG segment is significant given the fact that only one series of AMD's Ryzen CPU was on the market and only for one month. Even during that month, AMD faced supply shortages of its AM4 motherboard for a few days, which delayed its potential sales to the next quarter. Moreover, AMD only launched the desktop version of its Ryzen 7 series.
AMD's market share data in 2Q17 will be something to keep an eye on as its motherboard shortage issue is resolved, its Ryzen 5 desktop processors are launched, and its full-quarter sales of Ryzen are released. 2Q17's market share data should reflect Ryzen's true performance in the market.
There's also more to watch for in 2H17 as AMD rolls out its entire Ryzen portfolio. We'll explore this in the next article.