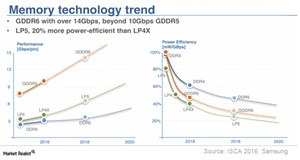 Will NVIDIA's Volta GPU Feature a Hybrid Memory Cube?
By Puja Tayal

Updated
Memory a key differentiator for Volta and Vega
NVIDIA (NVDA) is rumored to be pre-poning the launch of its Volta GPU (graphics processing unit) in response to Advanced Micro Devices' (AMD) Vega GPU. Rumors also state that NVIDIA will switch from a 16 nm (nanometer) node to a 12 nm node. However, what's turned heads the most are the memories that will be featured in these GPUs.
AMD claims that Vega will feature SK Hynix's HBM2 (high bandwidth memory). Earlier rumors claimed that NVIDIA's Volta would also feature Micron Technology's (MU) HMC (hybrid memory cube), which competes with SK Hynix's HBM.
Article continues below advertisement
NVIDIA's GPU roadmap
According to NVIDIA's original GPU roadmap, Volta was supposed to feature 3D stacked memory and launch after Maxwell. There was no Pascal in the original plan. However, Micron failed to deliver HMC on time and at the desired price, forcing NVIDIA to bring new architecture Pascal on board between Maxwell and Volta.
Inside Volta—the HMC or the GDDR6?
Even now, there are mixed rumors about whether Volta will feature the HMC or the GDDR6 technology. HMC is based on stacked memory, which is a complex and expensive technology. However, the GPUs aren't aloof to HMC or HBM technology. These memory chips are featured in high-end GPUs such as NVIDIA's GP100, which it uses in its most expensive product, the DGX-1, priced at $129,000.
According to a report by Wccftech, not all of NVIDIA's Volta GPUs will feature HMC technology. The mid- and low-priced versions will feature SK Hynix's new GDDR6 memory, which is expected to be available in early 2018. On the other hand, the higher margin enterprise Volta GPUs will feature HMC. 
Other rumors state that the first Volta GPUs will target the data center space, which means that they'll likely feature HMC technology.
Article continues below advertisement
SK Hynix's GDDR6 memory
Wccftech reported that NVIDIA's GeForce 20 series of Volta GPUs would feature GDDR6 memory and would launch in early 2018. The report was backed by a press release from SK Hynix, which stated that it would start mass production of the GDDR6 for a client that planned to launch high-end GPUs in early 2018.
Although SK Hynix didn't reveal the client's name, we can connect the dots and conclude that the client is none other than NVIDIA. AMD's mainstream Navi GPU will also feature the GDDR6, but Navi isn't due before 2018.
According to Wccftech, NVIDIA's Volta will feature 16 Gbps (gigabits per second) of GDDR6 memory on a 384-bit memory interface that will provide access to 768 Gbps of memory bandwidth—a 45% improvement compared to its Pascal architecture. If NVIDIA succeeds in delivering such high memory bandwidth, its Volta will likely outperform AMD's Vega, which will deliver 512 Gbps of memory bandwidth.
While NVIDIA prepares to compete with AMD, Apple (AAPL) is emerging as a potential competitor in the GPU space. Let's look into this in the next article.