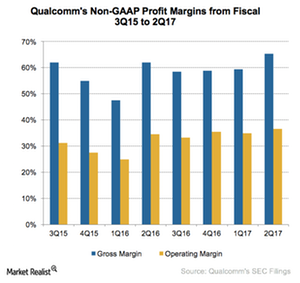 Will Legal Issues Impact Qualcomm's Fiscal 2017 Profits?
By Puja Tayal

May. 22 2017, Updated 7:35 a.m. ET
Qualcomm's profits take a hit
Earlier, we learned that Qualcomm's (QCOM) revenue could take a hit because Apple (AAPL) had suspended royalty payments until the court's decision on the companies' licensing dispute. This move forced QCOM to cut its already-conservative revenue guidance for fiscal 3Q17.
The impact on the company's profits could be even bigger, as licensing accounts for over 80% of its operating margin. Let's look at the various factors that could affect the chip supplier's profits in fiscal 2017.
Article continues below advertisement
Gross margin
The fiscal second quarter is generally a strong one for Qualcomm in terms of profits, as its licensing revenue is at a seasonal high. In fiscal 2Q17, the company's non-GAAP (generally accepted accounting principles) gross margin expanded to a two-year high of 65%. However, this margin is likely to contract in fiscal 3Q17 as the company's licensing business takes a hit.
Operating expenses
On the operations front, Qualcomm's non-GAAP operating expenses rose 7% sequentially to $1.7 billion, including expenses related to RF360 Holdings. Launched in February 2017, RF360 Holdings is Qualcomm's Singapore-based (EWS) RF (radio frequency) JV (joint venture) with TDK for the delivery of RF front-end modules and RF filters for the Smartphone, IoT (Internet of Things), and automotive spaces, among others.
For fiscal 3Q17, the company expects its operating expenses to rise 2% to 4% sequentially, as its results will include a full quarter of RF360 Holdings' operating expenses. Moreover, regulatory and legal cases will likely increase the company's legal expenses.
Article continues below advertisement
Operating margin
Qualcomm's overall non-GAAP operating margin rose from 34.5% in fiscal 2Q16 to 37% in fiscal 2Q17 as an increase in licensing payments from China more than offset the lower royalty payments from Apple's contract manufacturers. 
QCOM's operating margin is expected to witness a higher-than-seasonal contraction in fiscal 3Q17 due to some licensing customers' delaying their payments due to ongoing litigations.
The company's chipset business could also witness flat growth in its operating margin as its faces supply constraints for its premium Snapdragon 835 processors. On Qualcomm's fiscal 2Q17 earnings call, its chief financial officer, George Davis, stated that the demand for the Snapdragon 835 exceeded supply not only because of strong demand but also because of supply constraints. He expects this demand-supply imbalance to normalize in fiscal 4Q17.
What's causing these supply constraints? Let's take a closer look.