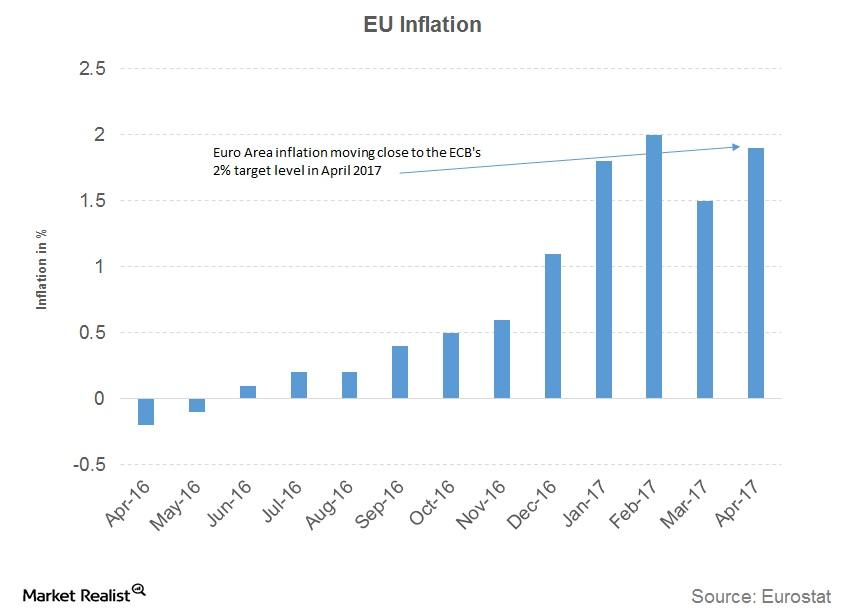 Will France's Election Outcome Pressure the ECB?
By Ricky Cove

May. 8 2017, Published 4:51 p.m. ET
Macron's win has removed a huge political uncertainty
The European Central Bank (or ECB) likely let out a huge sigh of relief after Emmanuel Macron emerged victorious in the second round of the French elections.
With the political uncertainty that would have led to another member country's leaving the European Union (or EU) now out of its way, the ECB and its members can focus on the major monetary policy decisions that need their attention.
Article continues below advertisement
ECB will be under pressure to ease
ECB chair Mario Draghi is likely to be in the limelight as speculation about tapering the ECB's quantitative easing program returns to impact the markets (VGK). The ECB has recently reduced its bond buying program from 80 billion euros per month to 60 billion euros, and it has committed to continuing the program through the end of 2017.
In a recent speech, ECB executive board member Yves Mersch discussed the ECB's process of policy normalization. He said, "If the Euro area economy recovers and inflation proceeds further on its path towards the ECB's inflation aim in a sustained manner, a discussion on policy normalization becomes warranted in the future." He also indicated that such measures should be conducted in a structured and orderly manner. 
What to expect from the ECB
From the current market standpoint (HEDJ), it's likely that the ECB's quantitative easing program will continue until the end of 2017, but the markets will likely start pricing in rate normalization before the program concludes. 
European bonds should be active going forward, with the spreads between major European countries such as Germany (GGOV) and France (EWQ) and peripheral European countries (HEZU) expected to narrow.
In the next part of the series, we'll analyze the equity market's reaction to the French elections.