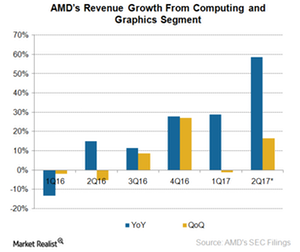 Will AMD's New Products Make Its CG Segment Profitable?
By Puja Tayal

Updated
2Q17 revenue guidance
Advanced Micro Devices' (AMD) CG (Computing and Graphics) segment reported better-than-expected seasonal earnings in 1Q17, driven by strong demand for its high-end Ryzen CPUs (central processing unit).
The quarter included only one month's worth of sales for Ryzen, raising hopes for even stronger growth in 2Q17, as the quarter will include one full quarter of sales for Ryzen 7 and 5 and the Polaris-based Radeon RX 500 series GPUs (graphics processing unit).
AMD has guided for moderate revenue growth of 12% YoY (year-over-year) for 2Q17. Assuming that the CG segment contributes 55% toward this overall revenue, its revenue is expected to rise 45.4% YoY to $632 million.
The segment's 2Q16 revenue didn't include any sales of Ryzen or Polaris. Hence, a 45% rise would largely be the result of these new products, which command higher ASPs (average selling price) than their predecessors.
Higher revenues should help CG to return to profits in 2Q17 after years of losses.
Article continues below advertisement
Will new products boost AMD's revenue in the future?
The new Ryzen and Vega products should make AMD more competitive and push its revenue going forward. However, it won't be easy for AMD to gain a significant share in the high-end markets dominated by Intel (INTC) and NVIDIA (NVDA).
The reviews for the Ryzen 7 and Ryzen 5 CPUs are mixed. Moreover, they only compete with Intel's two-generation-old Broadwell processors. AMD's Vega GPU is expected to perform better than NVIDIA's current Pascal-based Geforce GTX 1080 Ti, but Vega won't be able to outperform NVIDIA's next-generation Volta GPUs.
These comparisons show that AMD is currently still catching up with its rivals in terms of technology. It will take much more for the company to gain a decent market share in the high-end space.
Next, we'll look at AMD's Ryzen CPU's performance and try to understand its financial impact on the company's earnings.