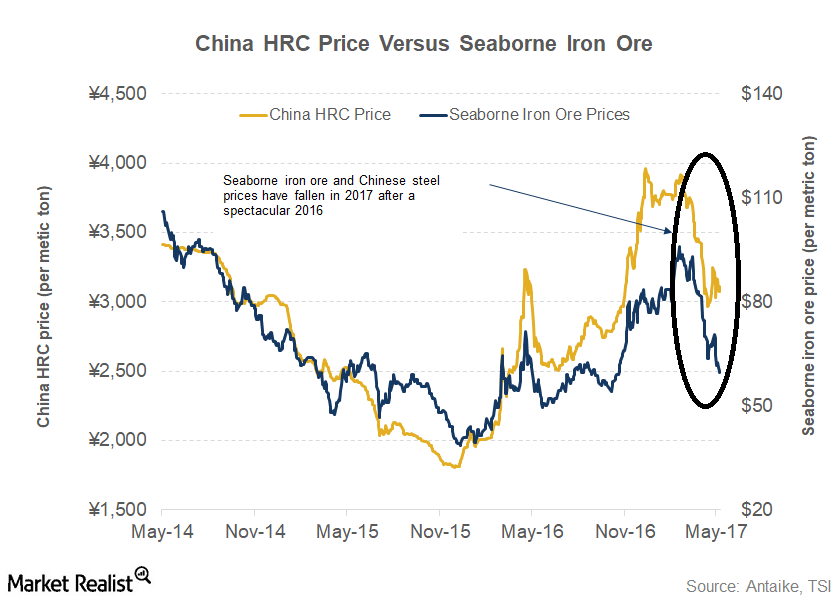 Why US Steelmakers May Have a Rough Road Ahead
US steelmakers
US steelmakers enjoyed a joyride in 2016 as Donald Trump's election fueled a rally in steel stocks. However, realism seems to be setting into markets after the initial euphoria over the Trump effect has subsided. In this article, we'll look at some of the factors that could drive down steel prices (AKS).
Article continues below advertisement
Rising imports
According to the preliminary data released by the United States Census Bureau, the United States (SPY) (SPX-INDEX) imported ~3.1 million metric tons of steel products in March 2017, a year-over-year (or YoY) rise of 30.6%. This was the highest yearly rise we've seen since January 2015.
This is the fifth consecutive month during which US steel imports have risen YoY. In absolute terms, March steel imports were at their highest level since May 2015.
Falling iron ore and Chinese steel prices
Steel bears point to falling seaborne iron ore prices as bearish drivers for steelmakers such as U.S. Steel Corporation (X), Nucor (NUE), and ArcelorMittal (MT). While lower iron ore prices could dent the profitability of steel companies' iron ore mining operations, they could also impact scrap pricing.
Notably, both seaborne iron ore and Chinese steel prices are trading with significant losses in 2017, as shown in the graph above. So far, US steel prices have been largely immune to global developments. However, we can't rule out repercussions in the coming months.
Meanwhile, the spreads between US and international steel prices have recently widened. In the next article, we'll see how could this impact US steel companies.