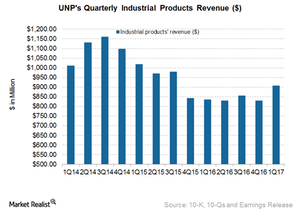 Why Union Pacific's Industrial Revenue Rose in 1Q17
Industrial segment's revenue
In this article, we'll assess Union Pacific's (UNP) 1Q17 industrial products' freight revenue. The Industrial segment, along with a 25% rise in coal revenue, was the main driver of UNP's revenue rise in 1Q17.
Article continues below advertisement
Industrial products' volumes
Industrial products' segmental volumes rose 1% in 1Q17 compared to 1Q16. The Industrial segment's volume rise was led by minerals, which rose 32% in the quarter. Minerals saw a rise in volumes mainly due to a 59% rise in fractionating sand shipments. The growth in shale-related drilling activity in 1Q17 fueled fractionating sand shipments.
Construction merchandise volumes, however, fell 9% in the reported quarter owing to the non-continuance of certain projects completed in South Texas in 2016. Plus, bad weather in the western region also negatively impacted construction volumes in 1Q17. Lower project-based waste shipments impacted specialized markets, though strength in the wind and government markets offset lower waste shipments in 1Q17.
Management's outlook
Union Pacific anticipates strong mineral volumes going forward, mainly due to slightly improving crude prices, which have caused drilling activity to rise. This rise has increased the demand for fractionating sand.
Higher metal imports will most likely negatively impact domestic demand, resulting in lower metal volumes for the company going forward. The strong US dollar has unfavorably impacted many industrial products' volumes. Union Pacific has an uncertain outlook in the industrial space.
Peers' industrial freight prospects
Industrial products remain a key segment for Union Pacific's peers as well. Major eastern US rail carriers such as CSX Corporation (CSX) and Norfolk Southern (NSC) will be affected by manufacturing activity in the United States. Kansas City Southern (KSU), along with UNP, faces risks due to possible changes in the NAFTA (North Atlantic Free Trade Agreement) in the coming quarters.
Investors thinking of investing in the transportation and logistics sector may want to opt for the iShares US Industrials ETF (IYJ). This ETF holds 6.2% in major US railroad companies.
In the last article, we'll evaluate Wall Street analysts' stance on Union Pacific.