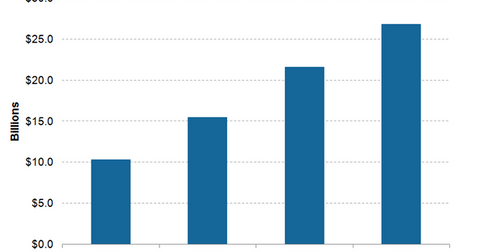 Why Time Warner Is Focusing on Its OpenAP Platform
By Shirley Pelts

Updated
Time Warner's focus on targeted advertising
In fiscal 2Q17, Time Warner (TWX) expects advertising revenue to fall due to the shift of the NCAA (National Collegiate Athletics Association) Final Four and championship games to TBS. The company is expecting a negative impact of 700 basis points on its advertising revenues for Turner.
Last month, Fox, Viacom (VIAB), and Time Warner (TWX) joined forces to provide a platform called OpenAP. It will provide advertisers with targeted advertising packages and "standardize the reporting of the size of the audience."
Article continues below advertisement
The company also talked about the OpenAP platform at its fiscal 1Q17 earnings call and said that so far, it has received a good response from the advertising community for this initiative. Time Warner also said that it believes the OpenAP platform will make it better for advertisers to buy targeted advertising products and increase transparency in the field of targeted advertising.
The company also said it's aiming to have about 50.0% of its advertising as targeted advertising by 2020. It also expects that AT&T's proposed acquisition will help the company adapt to its audience's viewing trends. In turn, Time Warner might be able to improve its targeted advertising.
US ad market expected to double in 2017
The programmatic ad market appears to have huge growth potential. According to an eMarketer report, and as the above graph shows, programmatic ad spending in the United States (SPY) has more than doubled from $10.4 billion in 2014 to $21.6 billion in 2016. In 2017, that spending is expected to reach ~$27.0 billion. Video mobile programmatic ads are another format that could gain popularity.
Other companies at the forefront of the video ad market are Google (GOOG) and Facebook (FB).