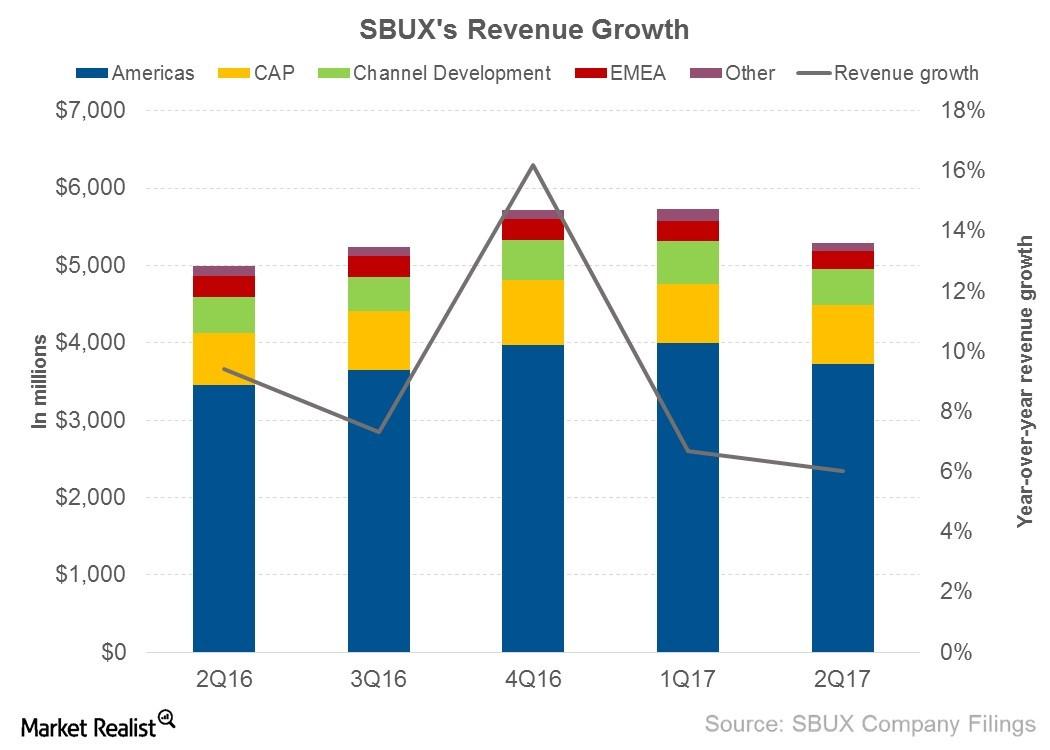 Why Starbucks's Fiscal 2Q17 Revenue Was Lower Than the Estimate
Revenue sources
Starbucks (SBUX) has classified its operations into the following five operating segments:
Americas
China and Asia-Pacific (or CAP)
EMEA (Europe, Middle East, and Africa)
Channel Development
All Other Segments
During fiscal 2Q17, the Americas segment generated 70.3% of the total revenue, while CAP, EMEA, Channel Development, and All Other Segments generated 14.5%, 8.7%, 4.4%, and 2.1%, respectively.
Article continues below advertisement
Fiscal 2Q17 performance
In fiscal 2Q17, Starbucks posted revenue of $5.3 billion, which was lower than analysts' estimate of $5.4 billion. Its SSSG (same-store sales growth) of 3.0% against analysts' estimate of 3.7% led to lower-than-expected revenue in fiscal 2Q17. However, fiscal 2Q17 revenue represents a year-over-year rise of 6.0%, driven by positive SSSG and the addition of 2,240 new restaurants in the last 12 months.
Moving to segment performance, revenue from the Americas segment rose 7.7% due to positive SSSG of 3.0% and the addition of 952 new restaurants in the last 12 months. Revenue from the CAP segment rose 13.4% due to positive SSSG of 3.0% and the addition of 1,015 restaurants in the last two months.
During the quarter, the Channel Development segment posted revenue growth of 0.02%. The growth in revenue from increased sales of packaged coffee and higher international and food service sales was offset by revenue deductions from previous quarters.
EMEA and All Other Segments posted falls in revenue of 13.6% and 14.2%, respectively. EMEA's revenue fell due to refranchising of its German business and negative SSSG of 1.0%. However, some of it was offset by the addition of new franchised restaurants.