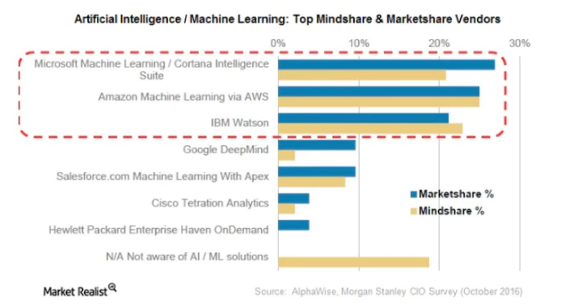 Why Salesforce Einstein Could Be CRM's Highlight in 2017
AI appears to be core focus of Salesforce
Earlier in this series, we discussed Salesforce's (CRM) recently launched $100 million VC fund with a focus on AI. Since 2009, Salesforce has been a keen investor in enterprise cloud startups as well as new technologies that align closely with the company's operations.
AI has recently caught the interest of Salesforce, and the company has been busy embedding AI features into its cloud offerings. By launching its new VC fund, aimed at AI, Salesforce has taken another step to push itself in the AI space. This discussion is incomplete without Salesforce Einstein, the company's AI platform.
Article continues below advertisement
Partnership with IBM
To further enhance the reach and penetration of Einstein, Salesforce partnered with IBM (IBM). Together, they plan to offer integrated AI services through Watson and Einstein. Watson is IBM's cognitive computing platform.
Sharing her thoughts on partnering with Salesforce, Ginni Rometty, the chairman, president, and chief executive officer of IBM, said, "Within a few years, every major decision—personal or business—will be made with the help of AI and cognitive technologies."
Through this partnership, Salesforce is aiming to empower its customers, ensure customer stickiness, and retain its hold in the CRM space. It also plans to expand in AI, a disruptive technology that is expected to pair with ML (machine learning) to drive the expected $2 trillion in spending during the next new computing cycle.
Salesforce Einstein empowers CRM's cloud offerings
Salesforce Einstein has brought AI capabilities such as machine learning, deep learning, and natural language processing to its five clouds—Sales Cloud, Service Cloud, Marketing and Analytics Cloud, Community Cloud, and Commerce Cloud. Looking at the way Salesforce is investing in the AI space, we could soon be seeing new Einstein features in every Salesforce Cloud.
Just like the overall cloud space, Salesforce faces fierce competition in the AI space. Morgan Stanley (MS) considers Microsoft (MSFT), Amazon (AMZN), and IBM as early but "underappreciated" leaders in the AI space, with market shares between 20%–30%.
Only time will tell if Salesforce's initiatives and investments in AI and Einstein could bring solid footing to the cloud space. Looking at the company's focus on AI, Einstein could dominate Salesforce's fiscal 1Q18 earnings.