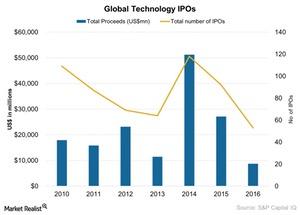 Why More Companies Want to Stay Private
By Mary Sadler

May. 12 2017, Updated 11:35 a.m. ET
Equity markets
The equity markets across the US (SPY) (QQQ) are surging with indexes recording all-time highs in 2017. The Volatility Index has been declining since last year, which provides a good opportunity for IPO activity in 2017. The IPO activity in 2016 was low compared to the previous year. Overall global IPO activity in terms of count fell 16% in 2016 as compared to 2015. According to Ernst & Young's latest global IPO trends report, the capital raised in terms of value also fell ~33% to $132.5 billion in 2016.
Article continues below advertisement
Increasing number of private companies
According to Adena Friedman, there are a few thousand less companies than there were a decade ago. More companies are staying private recently due to a number of reasons:
The JOBS Act is helping companies to remain private and thereby allowing access to capital markets.
Private companies' access to capital is much better lately as compared to a decade ago.
Let's have a look at the global technology IPOs over the last few years in the below chart.
Global technology IPOs in 2016
The global economy is currently facing challenges due to the unknowns of geopolitical events like Brexit and uncertain US economic policies. According to a PricewaterhouseCoopers report, 2016 saw fewer technology IPOs than 2015. In 2016, the global technology IPO market recorded only 53 technology companies tapping the capital markets, amounting to $8.7 billion.
Technology IPO activity recorded a decline of about 68% in proceeds and 42% by volume in 2016 as compared to the previous year. The IPO market stayed flat in 2016 mainly due to the following reasons:
geopolitical uncertainty
divergence in public-private valuation for companies in the tech sector
However, the market is expecting a rebound in 2017, as stocks are rallying across indexes. According to experts from EY, the outlook for 2017 is more upbeat, as economies are expected to grow stronger in 2017.
Investments
IPO ETFs track the IPOs of various companies and provide investors with access to a large number of initial public offerings. Some of these IPO ETFs include the Renaissance IPO ETF (IPO) and the First Trust US Equity Opportunities ETF (FPX). Some of the companies in these ETFs include Kraft Heinz (KHC), AbbVie (ABBV), Shire (SHPG), and PayPal Holdings (PYPL).
Let's look at Adena Friedman's views on tax reforms in our next article.