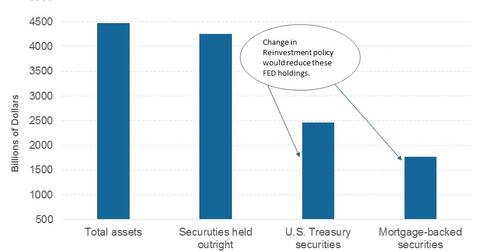 Why Loretta Mester Is Worried about Falling behind the Curve
By Ricky Cove

Updated
Mester wants the Fed to act before its goals are met
Loretta J. Mester, president of the Federal Reserve Bank of Cleveland, said in a May 8, 2017, speech that she wants the Fed to take action even before the Fed meets its goals. The reason she gave is that she doesn't want the Fed to fall behind the curve (HYG). She said it's important for the FOMC "to remain very vigilant against falling behind."
Article continues below advertisement
Price stability is still a concern
In Mester's view, the Fed has almost achieved its employment goals and is waiting. Tightening could increase price pressures, which could force policymakers to move faster than required, causing a steep rise in interest rates (GOVT). Sharp rises could impact companies (FCX) (APC) that rely on debt to run their businesses (PBR) and have high levels of debt.
Would consequences of the Fed's normalization be minimal?
Talking about the stability and risks involved in the Fed's portfolio rebalancing proposals, Mester said the US economy is ready for a gradual withdrawal of the Fed's accommodative policy. She's not too worried about the Fed's idea to reduce the size of its balance sheet, as she believes the Fed's portfolio probably won't have a major impact on the market.
Mester is a non-voting member of the FOMC (Federal Open Market Committee) this year. She has always been a hawk. From her recent speeches, it's clear that she supports increasing interest rates and reducing the size of the Fed's balance sheet.
In the next part of this series, we'll see why Charles L. Evans, president of the Federal Reserve Bank of Chicago, thinks it's extremely important to reach inflation goals.