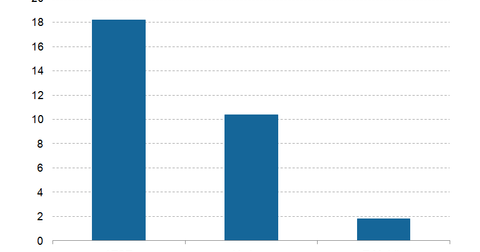 Why Is T-Mobile Prioritizing 5G Coverage over Data Speed?
By Ambrish Shah

Updated
T-Mobile's 5G strategy
In the telecommunications world, 5G (fifth-generation) technology is generating a lot of hype. It could provide ten to 100 times faster wireless speeds than 4G (fourth-generation) technology. T-Mobile (TMUS) is considering the future opportunities and limitations of 5G technology, which densifies the network with small cells. 
T-Mobile's management indicated that by 2020, the carrier would provide 5G wireless technology across the nation. Accordingly, the company has set a highly competitive goal for itself.
Article continues below advertisement
According to a FierceWireless report on May 2, 2017, "Unlike its competitors, though, T-Mobile is also looking to deploy 5G services on the low-band spectrum. By contrast, Verizon and AT&T are looking to deploy fixed wireless services in advance of mobile 5G, and they're focusing on high-band spectrum that offers increased capacity and speed but doesn't propagate as well."
FCC auction
In April 2017, T-Mobile was the top bidder in the FCC's broadcast incentive auction and agreed to spend nearly $8 billion to acquire 600 MHz low-band spectrum.
However, T-Mobile's management indicated that over some time, 5G could spread across all spectrum bands and that it wouldn't be limited to 600 MHz. Over time, 5G would have to be pushed into all bands for good IoT (Internet of Things) service, as T-Mobile is considering 5G coverage over data speed.
AT&T and the 5G market
AT&T (T) is an aggressive player in the 5G market, and it has tried to outbid its rivals in order to gain spectrum advantage. AT&T was the highest bidder during the AWS-3 spectrum auctions in early 2015 and purchased spectrum worth $18.2 billion.
The AWS-3 spectrum auction was the major auction conducted by the FCC after 2008. As seen in the graph above, Verizon (VZ) and T-Mobile also participated in that auction and made winning bids of $10.4 billion and $1.8 billion, respectively.