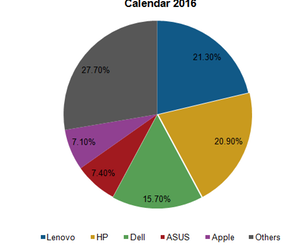 Why Is NVIDIA Looking to Enter Apple's Mac Platform?
By Puja Tayal

Updated
Why is NVIDIA entering the closed Mac platform?
NVIDIA (NVDA) recently released macOS drivers to bring its external Pascal-based GPUs (graphics processing unit) to Apple's (AAPL) Mac users.
This information came a week before the announcement of a Mac Pro upgrade coming later in 2017—the first upgrade in over three years. However, Apple closed the Mac platform to NVIDIA's external cards long ago.
The last time NVIDIA powered the MacBook Pro was in 2014, when it included an NVIDIA Kepler GPU. Hence, the announcement of a macOS driver from NVIDIA came as a surprise to the market. It also raises the question of why NVIDIA is looking to enter a market that's officially closed to its GPUs.
Article continues below advertisement
How would NVIDIA benefit from macOS drivers?
It goes without saying that NVIDIA is looking to allow Mac users to experience the high performance delivered by its Pascal-based GPUs. This could be considered NVIDIA's grassroots campaign to bring its GPUs back to the iMac and the Mac Pro.
According to data from the IDC (International Data Corporation), Apple has a 7.1% share in the PC (personal computer) market. If NVIDIA succeeds in getting inside the Mac platform, it should be able to tap into this 7.1% share.
On the technical front, NVIDIA is developing new GPU architectures for both the Mac iOS (operating system) and the Windows platform to ensure it can compete for future GPU contracts. Though NVIDIA is developing a GPU for Mac iOS in-house, it won't necessarily reach the end user, as its GPUs aren't supported by the Mac platform.
Currently, NVIDIA isn't present in the integrated graphics card market. If the company succeeds in securing a place on Apple's Mac, it will be a big win for the chip supplier.
NVIDIA is also making attempts to grow in the AI (artificial intelligence) market and stay ahead of upcoming competition from Advanced Micro Devices (AMD) and Intel (INTC). Next, we'll look at NVIDIA's AI efforts.