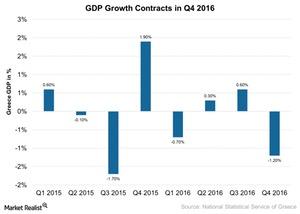 Why Economic Growth in Greece Is Subdued despite Bailout Help
By Mary Sadler

Updated
Economic recovery in Greece
Greece (GREK) has made significant progress reducing its macroeconomic imbalances since the onset of the financial crisis in 2008–2009. The fiscal primary and external current account deficits have fallen from double digits to around zero over the last six years.
However, substantial fiscal consolidation and internal devaluation, thereby decreasing labor costs, have resulted in reduced economic growth and high unemployment levels. You can see Greece's GDP growth over the last year in the graph below.
Article continues below advertisement
GDP growth in 2016
Greece's economy contracted 1.2% in 4Q16 compared to a 0.60% growth in the previous quarter. Several falls in its GDP contribution led to an overall slump in 4Q16.
Government spending fell 2.1% in 4Q16 compared to 0.10% in 3Q16.
External demand contributed negatively as exports fell 1.4% compared to 9.1% in 3Q16. Imports rose in 4Q16 by 4.5% compared to a fall of 2.8% in 3Q16.
Household consumption rose slightly by 0.20% compared to 0.60% in 3Q16.
Fixed investments rose slightly by 0.10% compared to 1.8% in 3Q16.
With ongoing reforms and official financing from its European partners, Greece was expecting modest growth in 2016. Its annual GDP contracted 0.10% from an initial estimate of a 0.30% growth rate for 2016. However, growth is projected to accelerate in the next few years, depending on a full and timely implementation of the economic adjustment program.
Greece's third economic adjustment program, which started on August 19, 2015, is scheduled to run until August 20, 2018. Financial assistance up to 86.0 billion euros is provided by the ESM (European Stability Mechanism). The overall aim of the program is to attain sustainable economic growth in Greece.
Improved economic activity in Greece is expected to positively impact investments in Europe at large. ETFs such as the iShares MSCI EMU (EZU), the Vanguard FTSE Europe ETF (VGK), the SPDR EURO STOXX 50 ETF (FEZ), and the iShares S&P Europe (IEV) are expected to benefit from economic growth in Greece.
GDP growth projections for 2017
According to the April 2017 IMF (International Monetary Fund) report, Greece's GDP is expected to rise 1.3% and 1.4% in 2017 and 2018, respectively. Long-term growth is projected to reach close to 1.0%, and the primary fiscal surplus is expected to be around 1.5% of GDP with its current policy adjustment program.
Downside risks to Greece's macroeconomic and fiscal outlook remain significant with incomplete or delayed policy implementation. Public debt has reached the unsustainable level of 179.0%, and unemployment has reached 23.0% as of 2016.
Let's look next at Greece's increasing level of unemployment.