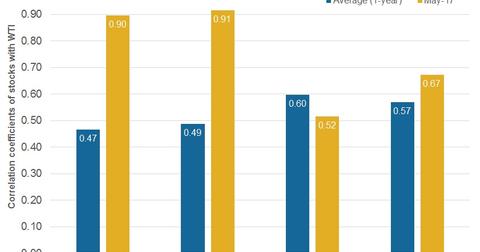 Why Correlation of Integrated Energy Stocks with WTI Rose in May
By Maitali Ramkumar

Updated
Correlation of integrated energy stocks with WTI
In this series, we compared integrated energy stocks for their valuations, dividend yields, short interest changes, institutional holdings variations, and implied volatility movements. We also looked at their stock performances. Now let's evaluate the changes in their correlations with WTI (West Texas Intermediate) prices so far in May 2017.
Integrated energy stocks such as ExxonMobil (XOM), Chevron (CVX), and BP (BP) have seen their correlations with WTI rise so far in May. The correlation coefficient of CVX rose to 0.91 compared to its one-year average of 0.49.
XOM and BP rose to 0.90 and 0.67, respectively, in May. However, Royal Dutch Shell's (RDS.A) correlation coefficient was at 0.52 in May, which ws lower than its average of 0.60.
Article continues below advertisement
Changes in correlation values
In May, XOM's and CVX's correlations with WTI were higher than RDS.A's. WTI prices are positively correlated to integrated stock prices, so the higher the correlation, the more movement in a stock for any move in WTI prices. That can be seen in the falls of XOM and CVX stock correlating with WTI prices in May 2017. CVX stock fell 1.0% and XOM stock fell 0.10% in May. WTI prices fell 6.0% in May. But with the weaker correlation of RDS.A with WTI, the stock has seen a 4.0% rise in its value in May. RDS.A probably rose due to better-than-expected 1Q17 earnings.
BP's and Royal Dutch Shell's price changes also impact the FTSE 100 Index. BP, RDS.A, and RDS.B are part of the index, which is comprised of large UK companies. BP, RDS.A, and RDS.B make up about 14.0% of the index in terms of market capitalization.
To find out more about the direction of oil prices, please refer to Will US Inventories Help Crude Oil Prices Recover? If you're looking for exposure to the integrated energy sector, you can consider the Vanguard Energy ETF (VDE), which has a 39.0% exposure to the sector.