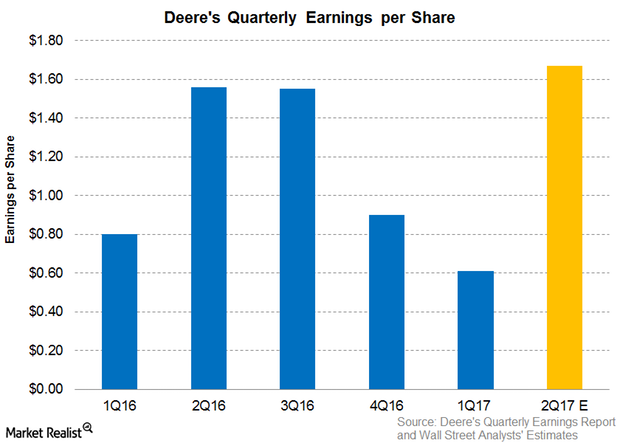 Why Analysts Are Expecting Deere's Earnings Per Share to Rise
Analyst estimates for Deere's EPS
As of May 15, 2017, Wall Street analysts are expecting Deere & Company (DE) to post EPS (earnings per share) of $1.67 in fiscal 2Q17. That would be a 7.0% rise year-over-year compared to $1.56 in 2Q16. In the past four quarters, Deere has beaten analysts' estimates, and investors are hoping the trend continues in 2Q17.
Article continues below advertisement
Influencing factors
The rise in EPS is expected to be driven by the cost savings benefit of Deere's voluntary employee separation program initiated in 4Q16. Through this program, Deere expects to save $75.0 million in fiscal 2017. As a result, analysts are expecting SG&A (selling, general, and administrative) expenses to fall to about $636.0 million in 2Q17 compared to $715.0 million in 2Q16. As a percentage of sales, SG&A expenses in 2Q16 were approximately 10.0%. Now analysts expect SG&A expenses to be 8.7% of sales.
Share repurchases
A company can also boost its EPS by purchasing its outstanding common shares from the market. In fiscal 1Q17, Deere bought back 60,000 common shares from the open market at an average price of $102.34, spending approximately $6.2 million. Under DE's share repurchase program, it can still spend $3.2 billion on share buybacks. We'll be watching to see how many shares DE buys back in 2Q17 and whether that will have a positive impact on EPS.
You can indirectly hold Deere by investing in the iShares MSCI Global Agriculture Producers (VEGI), which holds 8.1% in Deere. The top holdings of this fund include Syngenta (SYT), Monsanto (MON), and Archer Daniels Midland (ADM) with weights of 13.7%, 11.4%, and 6.5%, respectively, as of May 15, 2017.
In the next part of this series, we'll take a look at the latest analyst recommendations for Deere ahead of its fiscal 2Q17 earnings release.