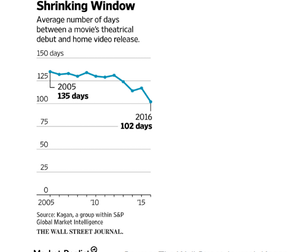 Where Time Warner Stands on Premium Video-on-Demand
By Shirley Pelts

Updated
Time Warner's view of premium video-on-demand
There has been increasing speculation that large movie studios such as Time Warner's (TWX) Warner Bros. are planning to release movies for home viewing less than 45 days after their release in theaters. According to a Wall Street Journal report from March 2017, movies becoming available on premium VOD (video-on-demand) services are likely to be priced between $30 and $50.
Time Warner (TWX) was asked about this development at the company's fiscal 1Q17 earnings call. The company stated that it was still in discussions with theater owners and believes that the premium VOD model would be beneficial for both movie studios and theater owners. According to the company, it would offer consumers viewing flexibility and create more excitement around its movies.
As the above graph shows, according to the Wall Street Journal report and Kagan, the window between a movie's release in theaters and its availability for home viewing shrank from 135 days in 2005 to 102 days in 2016.
Article continues below advertisement
Why the demand for home viewing?
As Millennials increasingly prefer to view content online, the demand for content is also increasing. That has led to content owners providing more options for online viewing, including premium VOD viewing. Another reason for studio owners contemplating offering movies earlier through VOD is an increase in VOD revenues.
According to a FierceCable report from March 30, 2017, citing a report from the Digital Entertainment Group, VOD revenues were $2.1 billion in fiscal 4Q16, almost a 6.0% rise year-over-year.
Time Warner makes up 0.37% of the SPDR S&P 500 ETF (SPY). SPY has a 3.9% exposure to the computer sector.