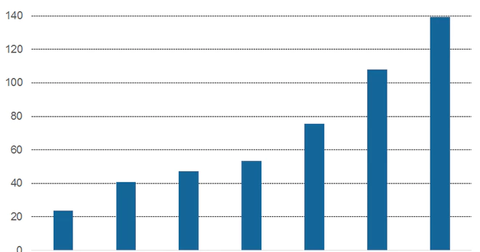 Where Does Apple's iPhone Stand in Terms of Market Share?
By Adam Rogers

Updated
Apple's share stands at 14.9%
According to IDC (International Data Corporation), Apple's (AAPL) iPhone had a market share of 14.9% at the end of 1Q17, compared to 15.4% last year. Unit shipments rose 0.80% YoY (year-over-year) to 51.6 million units in the March quarter.
Despite Samsung's (SSNLF) Galaxy S7 debacle, Samsung continued to lead the global smartphone market with a 22.8% share, compared to 23.8% in the same period last year. Samsung provided significant discounts for the Galaxy S7 and Galaxy S7 Edge to drive sales and regain customer confidence.
Global smartphone shipments rose 4.3% YoY to 347.4 million units in 1Q17, from 332.9 million units in 1Q16.
Article continues below advertisement
Chinese smartphone manufacturers continue to grow at a fast pace
Chinese (FXI) smartphone manufacturers such as Huawei, Oppo, and Vivo together accounted for 22.4% of the global smartphone market in 1Q17, compared to 18.7% in 1Q16. While Huawei's shipments rose 21.7% YoY in 1Q17 to 34.2 million units, Oppo's shipments rose almost 30.0% YoY to 25.6 million units, and Vivio's shipments rose 23.6% YoY to 18.1 million units.
As you can see in the above graph, Huawei's smartphone shipments have risen quickly. Huawei shipped 53.3 million units globally in 2013. That figure rose to 75.4 million units in 2014, 108.0 million units in 2015, and 139.3 million units in 2016. Huawei now accounts for almost 10.0% of the global smartphone market. While smartphone shipments rose 2.3% YoY in 2016, Huawei's shipments rose 30.2% YoY.