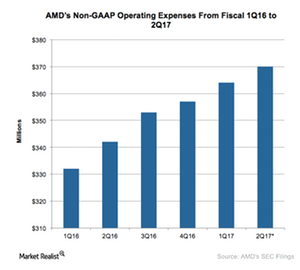 When Could AMD's Losses Turn to Profit?
By Puja Tayal

Dec. 4 2020, Updated 10:52 a.m. ET
AMD slips back to losses in fiscal 1Q17
Advanced Micro Devices (AMD) reported a 1% sequential revenue decline and its gross margin expanded between fiscal 1Q16 and fiscal 1Q17. However, the company slipped back to operating losses in fiscal 1Q17 after reporting operating profits in fiscal 4Q16.
AMD's profits are largely driven by volume sales, as it sells low-margin products. Therefore, a seasonal decline in revenue pushes the company back to losses. The company is looking to change that by launching high-margin products and increasing their share of overall revenue. Although this should bring AMD back to profits, it could take a few quarters.
Article continues below advertisement
Operating margin
AMD's non-GAAP (generally accepted accounting principles) operating loss narrowed from $55 million in fiscal 1Q16 to $6 million in fiscal 1Q17. The CG (Computing and Graphics) segment's operating loss narrowed from $70 million to $15 million during the same period due to an increase in ASPs (average selling prices) of CPUs (central processing units) and GPUs (graphics processing units).
The improvement in operating profit was also driven by a $27 million net licensing gain from its Chinese (MCHI) joint venture with THATIC (Tianjin Haiguang Advanced Technology Investment Company). AMD slipped back to losses in fiscal 1Q17 after reporting an operating profit of $26 million in fiscal 4Q16, despite its revenue falling just 1% sequentially. This slip was due to higher operating expenses.
Operating expenses
On a sequential basis, AMD's operating expense rose $7 million, whereas its revenue fell $116 million. This expense wiped away its $26 million operating profit from fiscal 4Q16 and pushed the company into an operating loss of $6 million.
The company's operating expenses rose 9.6% YoY (year-over-year) to $364 million in fiscal 1Q17 as the company increased its R&D (research and development) expenses for the Vega GPU (graphics processing unit) and the Naples CPU (central processing unit). The company also increased its spending on selling and distribution to promote the new Ryzen CPU.
NVIDIA's (NVDA) operating expenses rose 4% sequentially in fiscal 1Q18 as it launched its GTX 1080 and Titan X. Meanwhile, Intel (INTC) is maintaining its operating expenses at $5.4 billion.
AMD expects its operating expenses to increase 16% sequentially to $370 million in fiscal 2Q17 due to the launch of the Vega, Naples, and Ryzen 5. Its revenue is likely to grow at the same rate, which could result in another quarter of operating losses unless the company sees better-than-expected revenue during the quarter. Next, we'll look at AMD's net margins.