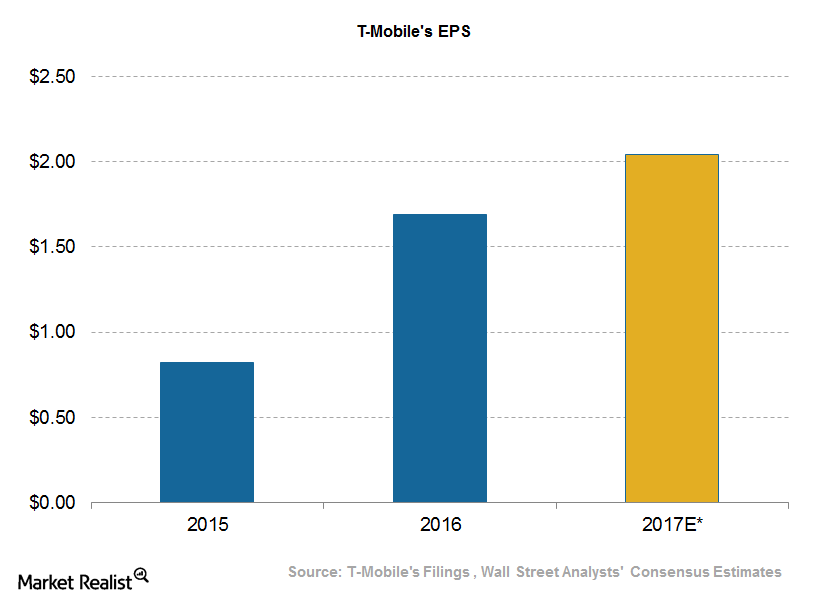 What's the Outlook for T-Mobile for the Rest of 2017?
Outlook for T-Mobile on consolidated results for 2017
T-Mobile (TMUS) continues to challenge the wireless telecom (telecommunications) industry with innovative service plans and new customer benefits every few months rather than simply competing for price. The success of these service plan innovations has been obvious since major competitors such as Verizon (VZ), AT&T (T), and Sprint (S) have sought to copy some features of those plans or diversify into other businesses.
Article continues below advertisement
During T-Mobile's recent 1Q17 earnings conference call, management gave guidance on the company's expected performance for 2017. Wall Street analysts expect T-Mobile's earnings to rise in 2017. They also expect its EPS (earnings per share) to rise ~20.7% YoY (year-over-year) to ~$2.04 compared to $1.69 in 2016.
Key points from T-Mobile's guidance
T-Mobile could continue to gain postpaid subscriber share as it continues to improve its value proposition with its new Un-carrier initiative. The company increased its branded postpaid net customer additions guidance for 2017 to 2.8 million–3.5 million from the previous guidance of 2.4 million–3.4 million.
T-Mobile's management expects adjusted EBITDA (earnings before interest, tax, depreciation, and amortization) for 2017 to be $10.4 billion–$10.8 billion. This target excludes spectrum gains and includes expected leasing revenues of $0.80 billion–$0.90 billion.
An accounting change associated with imputed interest for its EIP (Equipment Installment Plan) receivables is expected to impact the results by $0.20 billion–$0.30 billion. The company forecasts cash capex (capital expenditures) for 2017 of $4.8 billion–$5.1 billion, excluding capitalized interest. That's unchanged from the guidance provided in the previous quarter.
In the next part, we'll look at T-Mobile's earnings growth in 1Q17.