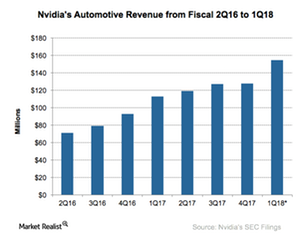 What's NVIDIA's Approach to Self-Driving Cars?
By Puja Tayal

May. 12 2017, Updated 7:35 a.m. ET
NVIDIA's automotive segment
NVIDIA (NVDA) is leveraging its GPU (graphics processing unit) and Tegra processor to bring AI (artificial intelligence) right from data center to device. While its Gaming segment has been subject to seasonality and its Data Center segment has been witnessing exponential growth, its Automotive segment has been growing steadily.
Over the last two years, NVIDIA's automotive revenue has risen almost 250%. In fiscal 4Q17, its automotive revenue rose 38% year-over-year to $128 million, contributing 6% to the company's revenue.
Article continues below advertisement
NVIDIA evolves in the automotive space
NVIDIA evolved from offering Tegra mobile processors that deliver better graphics, 3D navigation, and audio for infotainment systems to offering the DRIVE PX 1, which controls automatic braking and lane changes. The company has now advanced to the DRIVE PX 2, which is 40 times faster than its predecessor and enables fully autonomous driving capabilities.
NVIDIA's approach to self-driving cars
In an interview with Digital Trends, NVIDIA's vice president of sales and marketing in Europe, Serge Palaric, stated that cars are currently equipped with loads of devices such as black box and infotainment to perform different tasks. NVIDIA looks to combine all these tasks into one platform.
According to a report on Trucks.com, NVIDIA's senior director of automotive, Danny Shapiro, recently commented on the company's autonomous driving capabilities. Shapiro explained that the Drive PX-2 and DriveWorks software collect data from sensors and cameras in the car, process it, analyze it, create the world around it on a real-time basis and with extreme accuracy, and make decisions accordingly.
He added that autonomous cars have five levels, with Level 5 being a fully automated car. NVIDIA plans to launch Level 3 capability in 2017 and Level 4 capability in 2018.
Article continues below advertisement
NVIDIA's automotive partnerships
NVIDIA has entered into several partnerships with the automotive supply chain to bring fully autonomous cars on the road, as this requires work at various levels, from auto OEMs (original equipment manufacturer) to automakers to cloud-mapping solutions. Some of NVIDIA's auto partners include Tesla, Audi, Bosch, Mercedes-Benz, ZF, Baidu, Volvo, and PACCAR. We'll look into each of these partnerships in detail in the next article.
NVIDIA's TAM in autonomous cars
NVIDIA estimates that autonomous cars are a $6 billion–$12 billion opportunity. The company is at the forefront of the self-driving space and could stand to gain the first-mover advantage if its AI car platform succeeds.
The strong growth opportunity in the self-driving car space has attracted semiconductor giants Intel (INTC) and Qualcomm (QCOM). Intel is acquiring ADAS (advanced driver assistance systems) leader Mobileye (MBLY) for $15.3 billion, and Qualcomm is acquiring the world's largest automotive semiconductor supplier, NXP Semiconductors (NXPI), for $47 billion.