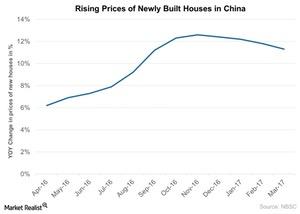 China's Increasing Debt Level and Real Estate Bubble
By Mary Sadler

May. 18 2017, Published 11:19 a.m. ET
Increasing debt level in China
The increasing level of credit in China is resulting in the real estate bubble, according to several analysts. China's (FXI) real estate bubble is a significant threat to economic growth in emerging markets (EEM), which could impact global growth (ACWI) (VT). There has been double-digit housing inflation in China in the last few years. As a result, China's administration has taken several steps to curb the increased credit level, which led to slower economic growth in the past few months.
We'll look at the YoY (year-over-year) change in newly built houses in China in the last few months.
Article continues below advertisement
Housing bubble in China
Average prices of new homes in 70 cities in China rose 11.3% YoY in March 2017—compared to an 11.8% rise in February 2017. The gain in March marks 18 consecutive months of gain. The gain has been slower since September 2016. Prices rose ~19% and 16.8% in Beijing and Shanghai, respectively. To calm the property market, Chinese authorities in at least 64 cities announced new or tougher property-buying restrictions.
China's reliance on debt
China has been relying on credit expansion to reach its economic growth forecasts for several years. The loans tend to create distortions and stresses in the banking system, which contribute to bubbles in asset prices including oversupply in numerous sectors like the real estate sector.
Fueled by speculative investments, the rising property market in China is considered to be the biggest risk to China's growth, according to many analysts and policymakers. The real estate bubble and the increasing level of debt provide a perfect parallel to the subprime crisis of 2008 in the US (SPY). More unwarranted investments in real estate will likely impact China's (MCHI) economic growth and drag global growth (ACWI).
Investment impact
ETFs like the iShares FTSE China (FXI) and the iShares MSCI China ETF (MCHI) rose 3% and 6% since the beginning of 4Q17 as of May 16, 2017. The MSCI Emerging Markets rose 6% during the same period. State-owned firms and banks will likely be impacted by the real estate bubble in China (GXG). The A-shares Fund (ASHR) by Deutsche Bank, which is heavily weighted on local companies, fell 1% since 2Q17 as of May 16, 2017.
In the next part, we'll look at economic growth amid growing debt.