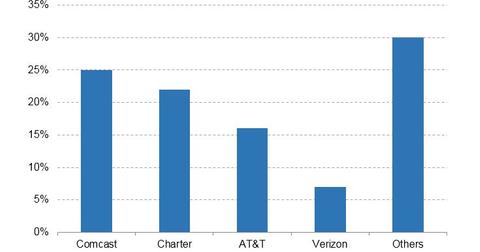 What's behind AT&T's 'Better-Together' Philosophy?
By Ruchi Gupta

Updated
HBO for free
AT&T (T) is proving that playing in the maturing US (SPY) wireless market is not for the faint-hearted as is evident by the company's decision to tweak its unlimited data plan, which it calls Unlimited Plus, by adding HBO subscription at no extra cost.
The company said in April that new and existing customers who have subscribed to its Unlimited Plus plan, which starts at $90 a month, can now have free access to HBO. Keep in mind that HBO is a product of Time Warner (TWX), which AT&T has proposed to acquire.
Article continues below advertisement
Controlling Internet access and content
In an interview with Business Insider, AT&T entertainment group marketing boss, David Christopher, described what the company has been up to of late as part of a "better together philosophy." It involves bundling wireless services and entertainment as the company seeks to control Internet access and digital video markets.
When AT&T launched the zero-rated DIRECTV Now, T-Mobile (TMUS) rushed to counter it by offering free Hulu for one year to customers who defect from AT&T. But with free HBO to Unlimited Plus customers, there are now more incentives to stay on the AT&T network and DIRECTV Now subscribers may be less inclined to switch to T-Mobile. Perhaps T-Mobile is wishing it had waited to see what AT&T was up to before it jumped on footing the Hulu bill for defectors.
Resistance to better-together philosophy
But AT&T is unlikely to have it easy with its better-together philosophy of combining entertainment and Internet access. The discounts it is throwing to such offerings, such as zero-rating video services, could eat into its profits in the long run. Additionally, its competitors like Verizon (VZ) are also buying or partnering with media providers, and they may come up with more competitive packages.