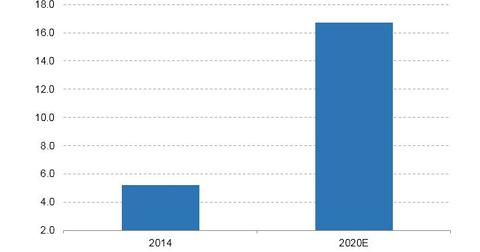 What Awaits Google in India's Meal-Delivery Market?
By Neha Gupta

Updated
Google enters Indian food-ordering sector with Areo
In search of new growth opportunities, especially revenue sources outside its primary advertising business, Alphabet's (GOOGL) Google has entered India's food tech industry with a meal-delivery service called Areo.
Increasing Internet and smartphone penetration, rising disposable incomes, and busy lifestyles are among the factors backing hopes that India could soon be a booming food tech market.
Article continues below advertisement
Market grows 150%
As if to confirm those hopes, India's online food-ordering industry registered a 150% increase in sales between 2015 and 2016, according to consulting firm RedSeer. Sales reached $300.0 million in 2016 compared to $120.0 million in 2015.
Widespread startup failure
While India's food tech industry is expanding at a rapid pace, food tech startups have struggled in the country. Several meal-delivery startups closed in 2016, and several others were forced to consolidate to survive. 
These changes occurred when investor interest in the Indian food tech industry appeared to be waning. According to RedSeer, the sector received only $80.0 million in investor funding, sharply down from $500.0 million in 2015.
If the startup's failures in the sector stemmed from funding drying up for them, Google has deep pockets to avoid such a fate. However, if the failures stemmed from industry overcrowding leading to brutal competition, Google's Areo may not have a smooth ride.
Sowing today to harvest tomorrow