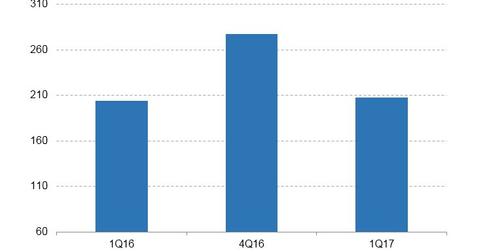 What Twitter's 1Q17 Says about Initiatives Like Twitter Lite
By Neha Gupta

Updated
Twitter Lite launched for Indian market
In April 2017, Twitter (TWTR) launched a simplified version of its service that is optimized for the Indian market. Users in this market still face problems of slow and unreliable Internet connections outside the country's major cities. Twitter Lite, as the India-oriented version is called, is designed to encourage Indians to use Twitter more and help the company accelerate the growth of its subscriber base in the country.
Article continues below advertisement
Although Twitter doesn't say exactly how many people use Twitter Lite in India, research firm eMarketer last estimated the number at more than 30.0 million users. India, with its nearly 1.3 billion people, is a fertile ground for social media companies like Twitter and Facebook (FB) to recruit subscribers. 
Removing the pain of connecting to a service could inspire existing subscribers to use a service more and entice more people to sign up for the service. That trend could lead to more engagement, which in turn could attract more advertiser spending.
International revenue up only 2%
Looking at Twitter's 1Q17 international numbers, one gets the impression that the company would need more initiatives like Twitter Lite to grow its footprint and revenues in emerging markets where populations are still struggling with patchy Internet access. 
The company said it closed 1Q17 with 259 million monthly active users (or MAUs) abroad, implying a 6% increase from 1Q16. However, international revenues only increased 2% from 1Q16 to $208 million.
Emerging markets ad spending