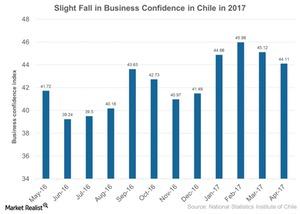 What Chile's Mining Strike Means for a Highly Privatized Economy
By Mary Sadler

Nov. 20 2020, Updated 3:41 p.m. ET
Chile's economy in 2017
Chile (ECH) had been known as the best-managed economy in Latin America (ILF)—until recently. Now, its extended mining strike and botched reforms are expected to impact the country's growing economy in 2017.
The historically long strike at BHP Billiton's (BHP) Escondida copper mine in Chile is now expected to pull one of Latin America's strongest economies into recession. Business confidence has also been in decline in 2017, due to the strike and the mounting uncertainty heading into Chile's November 2017 elections.
Article continues below advertisement
Business confidence in Chile
Business Confidence in Chile (AND) fell to ~44.1 in April, as compared to ~45.1 in March 2017. Business Confidence in Chile has averaged ~53.2 between 2003 and 2017.
Chile's recent strike in the copper mining sector seems to have affected business confidence in the country. In 2016, the mine produced over 1 million tons of copper, which accounts for about 5% of the world's total copper production.
Notably, business confidence is usually measured on a scale of 0 to 100, with levels above 50 indicating optimism, 50 indicating neutrality, and below indicating 50 pessimism.
Copper mining strike in 2017
The strike began in February 2017 after contract talks between the company and the workers' union collapsed. The main disagreement was on the status of new workers and planned changes in workers' shifts and benefits.
Chile's central bank is expecting the strike to have knocked one percentage point off the country's GDP growth in the first quarter of 2017. Chile's economic activity in February slid by 1.3%, as compared to the same period last year. Mining activity shrank by about 17% in February.
Chile's economy to rebound post-mining strike
Chile's rigid labor market is expected to pose a considerable challenge to copper mining companies, which are cost conscious and want to improve margins amid price instability. Despite potential hurdles, Chile's central bank expects its real GDP to grow between 1% and 2% in 2017 and in the 2.25–3.25% range in 2018.
Improved external market conditions and continuous domestic consumption growth are expected to support economic growth in 2017–2018. Experts remain confident about Chile's mining industry outlook, despite potential challenges over the next few years.
Notably, copper demand is primarily driven by emerging market (EEM) (DYVE) countries like China (FXI) and India (INDA). Major players in copper mining in Chile include Freeport-McMoRan (FCX), BHP Billiton (BHP), Rio Tinto (RIO), and Southern Copper (SCCO)
In the next and final part, we'll examine Venezuela's current situation.