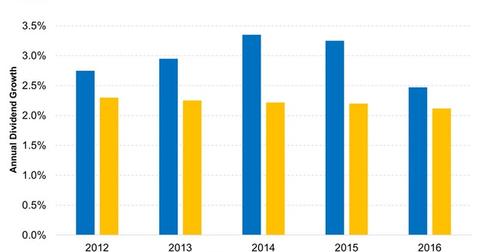 How Verizon's Dividend Yield Compares to AT&T's
By Sanmit Amin

Updated
AT&T and Verizon have seen decent dividend growth
Telecom stocks (IYZ) have historically been a go-to source for generous dividends. As Treasury yields have headed south since the recession, investors have been seeking income from high-dividend stocks like telecom stocks.
AT&T and Verizon have been two of the most consistent dividend payers within the telecom sector. Verizon (VZ) has paid steady dividends for over 30 years. It has also seen dividend growth in the last ten years. Meanwhile, AT&T (T) has increased its dividend every year for over three decades. Both stocks currently have an attractive dividend yield of 5.1%.
Article continues below advertisement
Dip in profitability could affect dividend growth
Verizon recorded a dip of 3.6 percentage points in its 2016 operating margin on a YoY basis. The dip in operating margin was due to a decline in revenues and an increase in operating costs. This took a toll on the company's dividend growth in 2016, as the graph above shows. The company has recorded a CAGR (compound annual growth rate) of only 3% in dividends over the past five years.
Meanwhile, as the graph suggests, AT&T's dividend growth has consistently dipped over the past five years. This dip is due to fluctuating operating income as operating expenses outgrew revenues. AT&T's stronger free cash flow position relative to Verizon's could very likely make it attractive to dividend investors. However, the new labor contracts could squeeze profitability.