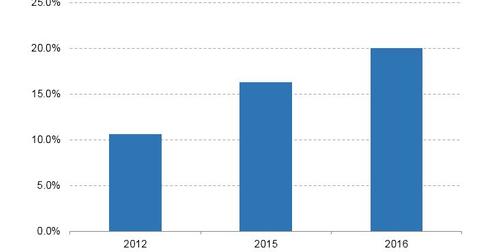 Verizon Is Snapping Up Media Assets to Compete with Google
By Neha Gupta

Updated
Verizon chases media assets
Verizon (VZ) and AT&T (T) have been snapping up media assets as they seek a life outside their core wireless carrier business. The maturing wireless carrier market has meant limited growth and stiff competition. However, the ambitions of these wireless carriers are set to create more competition with Alphabet (GOOGL), one of the world's two largest advertising companies.
Article continues below advertisement
Largest media owners
Alphabet's Google and Facebook (FB) emerged as the largest media owners in 2016 when ranked by advertising revenues generated. The two companies alone took 20.0% of all the money spent on advertising worldwide in 2016, according to analytics firm Zenith. Their combined share of the market increased from 16.3% in 2015.
Alphabet posted advertising revenues of $21.4 billion in 1Q17, accounting for 86.3% of its total revenues in the quarter.
Oath is swearing to give Google a run for its money
However, Google isn't safe despite its dominant position in the advertising industry, as Verizon is aiming for its position. Verizon is poised to become a much larger media company after it acquires Yahoo! Verizon expects to combine the assets with media and advertising technologies it acquired from AOL under a newly created media entity called Oath.
With these assets, Verizon could bolster its play in the advertising industry, increasing the competition against Google and Facebook.
Undoing Google's dominance
Verizon's media buildout could also concern Google executives, considering recent reports suggesting that marketers are keen to nurture competition against Google and Facebook to undo their duopoly in the Internet advertising market. As such, alternative online advertising platforms such as Verizon's Oath and Amazon (AMZN) are likely to see an uptick in advertising spending as part of marketers' efforts to dilute Google and Facebook's dominance.
Verizon and AT&T also pose a threat to Alphabet's Internet access operations.