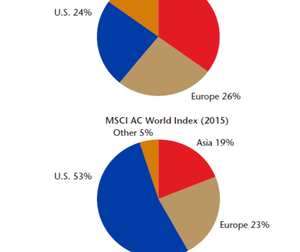 US Investors Persistently Underweight on Asia
By Matthews Asia

Updated
Matthews Asia
Investing in Asia
While the opportunity in Asia is substantial, investors are not yet taking full advantage. Generally, they not only under allocate to Asia but then invest in the "wrong kind of Asia", thereby missing out on the potential of some of the region's fastest growing sectors.
There is a mismatch between Asia's share of world GDP (over a third, as shown earlier in Figure 1) and its share of world stock market capitalization (under one-fifth). Over the long-term this may provide a substantial opportunity for investors.
Article continues below advertisement
But investors do not allocate even this proportion of their assets to Asia. At present, U.S. mutual fund investors still have over three-quarters of their equity allocations in the domestic market. Most of the rest is in non-U.S. or global portfolios. Assuming these funds have an implicit Asian exposure equal to the region's index weight, the aggregate investor exposure to Asia is still below 10%, under half of the region's share of the world's market capitalization. Just 1% of equity mutual fund assets are in dedicated Asian regional funds.
Market Realist
Huge opportunities in Asian markets
Although American investors have focused on domestic markets in the past, investors seeking long-term capital appreciation need to focus on Asia as well. Asian markets offer a remarkable pool of diversified companies that are growing at an exponential rate, including Alibaba Group (BABA), Qihoo 360 (QIHU), Tencent Holdings, Baidu (BIDU), and NetEase (NTES). These are high-growth companies operating in lucrative markets. For example, Alibaba's annual revenue grew more than tenfold between 2010 and 2016, from 6.7 billion Chinese yuan to 101.1 billion yuan. Chinese search engine Baidu also saw its revenue swell from $1.2 billion in 2010 to $10.2 billion in 2016. Growth has not been limited to China (FXI) (MCHI). It is widespread across several Asian nations (EPI) (EWY).
Underweight on Asia
However, despite the globalization of the financial system and huge opportunities, US investors remain underweight on Asia, missing long-term capital appreciation opportunities. The MSCI ACWI (All Country World Index), which invests in companies in 23 developed markets and 23 emerging markets, has low exposure to Asia, excluding Japan (AAXJ). In fact, as of March 31, 2017, none of its top ten constituents were Asian.