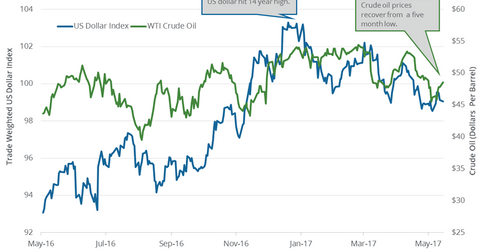 US Dollar under Pressure due to US Retail Sales and North Korea
By Gordon Kristopher

Updated
Crude oil prices 
June WTI (West Texas Intermediate) crude oil (IEZ) (RYE) (VDE) futures contracts rose 2.6% and were trading at $49.05 per barrel in electronic trade at 4:55 AM EST on May 15, 2017. Prices rose as Saudi Arabia and Russia favored an extension of the major producers' production cut deal for nine more months. The weak US dollar (UUP) also supported crude oil prices.
However, prices are near a five-month low. Broader markets such as the S&P 500 (SPY) (SPX-INDEX) and the Dow Jones are near all-time highs. Bullish momentum in the US stock market could support oil demand and oil prices. For more on crude oil prices, read part one and part four of this series.
Article continues below advertisement
US Dollar Index 
The US Dollar Index fell 0.4% to 99.1 on May 12, 2017. It fell due to a less-than-expected increase in US retail sales in April 2017 from March 2017. US retail sales rose 0.7% during this period. The US Dollar Index fell 0.1% to 99.05 on May 15, 2017. The US dollar fell due to another missile test by North Korea, which raised geopolitical tensions between the US and North Korea.
US dollar and crude oil  
The dollar hit a high of 103.8 on January 3, 2017, the highest level in 14 years. It's down ~4.5% from its high on January 2017. The dollar is near a November 2016 low due to these factors and less-than-expected GDP growth in 1Q17.
The US dollar and crude oil (SCO) (USL) (PXI) are usually inversely related. A fall in the US dollar makes crude oil more economical for oil importers. When the dollar falls, crude oil prices rise.
Volatility in crude oil prices impact the earnings of oil and gas producers like Chevron (CVX), Denbury Resources (DNR), and Cobalt International Energy (CIE).
A market survey predicts an interest rate hike in June 2017 and September 2017. The expectation of multiple interest rate hikes in 2017 could push the dollar higher. The strong US dollar is expected to be one of the key downside catalysts for crude oil prices in 2017.
In the next part, we'll discuss the energy calendar for this week.