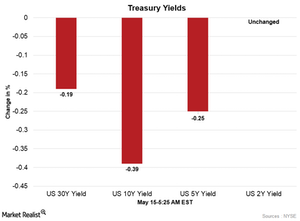 US Dollar and Treasury Yields Are Weaker Early on May 15
By Val Kensington

May. 15 2017, Updated 7:38 a.m. ET
US Dollar Index
After breaking the losing streak and regaining strength last week, the US dollar is weaker in the early hours on Monday. Weakness in US economic data at the end of last week dented the sentiment.
Article continues below advertisement
Weaker economic data
Retail sales rose 0.4% in April. Even though retail sales growth is higher than 0.1% last month, it was below expected growth of 0.6%. The US core CPI (consumer price index) recorded growth of 0.1% in April, which is less than the expectation of 0.2% growth. The market is looking forward to the Fed's interest rate meeting next month. The Fed is expected to raise interest rates.
On the other hand, North Korea conducted a successful missile test on May 14. North Korea's main objective is to test the possibility of using a large-scale nuclear warhead. At 5:15 AM EST on May 15, the US Dollar Index was trading at 99.03—a fall of ~0.22%. There are no major US releases scheduled for today.
US Treasury yields
After pulling back on Friday and giving up all weekly gains, US Treasuries ended the week with weakness. Amid a search of safe-havens, US government bonds rose on Friday after the release of weaker-than-expected retail sales and CPI data. US Treasury yields fell because they move opposite to bond prices. The market sentiment was also dented by the political situation in the US amid the dismissal of FBI Director Comey and the investigation into a possible connection between Russia and President Trump's campaign.
At 5:25 AM EST on May 15:
The ten-year Treasury yield was trading at 2.322—a fall of ~0.39%.
The 30-year Treasury yield was trading at 2.987—a fall of ~0.19%.
The five-year Treasury yield was trading at 1.848—a fall of ~0.25%.
The two-year Treasury yield was trading at 1.295—unchanged.
The iShares 20+ Year Treasury Bond ETF (TLT) rose 0.76%. The ProShares UltraPro Short 20+ Year Treasury ETF (TTT) and the ProShares UltraShort 20+ Year Treasury ETF (TBT) fell 2.4% and 1.4%, respectively, on May 12.