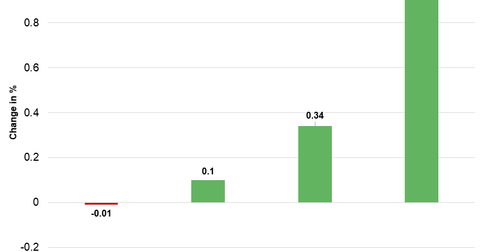 US Dollar and Treasuries Are Stable Early on May 3
By Val Kensington

Updated
US dollar
After a brief pullback on Tuesday, the US dollar is stable in the early hours on May 3. The dollar is moving higher ahead of the Fed's interest rate decision.
Article continues below advertisement
Focus on the Fed's statement
Despite low chances of an interest rate change, the market is focusing on the Fed's policy statement to gauge the chances of an interest rate hike in the June meeting. The market is also focused on the Eurozone's major economic releases. The market is looking forward to the release of the non-farm payroll report and non-manufacturing (services) PMI data scheduled for today. The dollar has been weaker since the second week of April—amid the new tax cut plan and geopolitical events such as the political scenarios in the United Kingdom and France.
At 5:15 AM EST on May 3, the US Dollar Index was trading at 98.95—a gain of ~0.17%.
Treasury yields
Treasury yields rose to three-week high levels on May 1 amid comments made by Treasury Secretary Steven Mnuchin about introducing ultra-long bonds which have maturity more than 30 years into the market. Yields pulled back on May 2 after President Trump tweeted that the US needs a good "shutdown" in September to fix the mess. President Trump tweeted support for a forced shutdown of the federal government amid a clash among Republicans, Democrats, and the White House to reach a budget deal. Recently, Congress reached a deal to fund the federal government through September. The bill includes providing an addition $15 billion in funds to the military, which is half of what President Trump demanded. Also, $1.5 billion additional funds have been provided to border security to maintain the existing infrastructure but not to construct a wall on the border.
At 5:30 AM EST on May 3:
The ten-year Treasury yield was trading at 2.298—a rise of ~0.1%.
The 30-year Treasury yield was trading at 2.982—a drop of ~0.01%.
The five-year Treasury yield was trading at 1.819—a rise of ~0.34%.
The two-year Treasury yield was trading at 1.274—a rise of ~0.94%.
The iShares 20+ Year Treasury Bond ETF (TLT) gained 0.51%, while the ProShares UltraPro Short 20+ Year Treasury ETF (TTT) and the ProShares UltraShort 20+ Year Treasury ETF (TBT) fell 1.4% and 0.96%, respectively, on May 2.