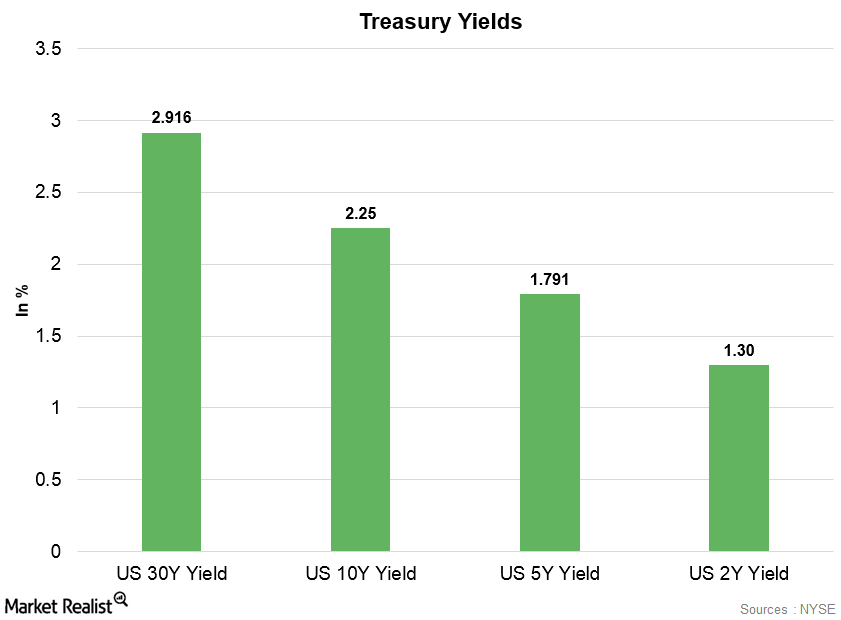 US Dollar Stable in Early Hours, US Markets Closed
By Val Kensington

May. 29 2017, Updated 8:57 a.m. ET
US Dollar Index         
The US Dollar Index started on a weak note last week, but it gained strength as time went on. The US Dollar Index was stable in the early hours of May 29, 2017.
The sentiment in the US dollar improved last week amid new economic data. The United States Department of Labor reported jobless claims of 234,000 in the week, less than the expected 238,000. The upward revision of US GDP also pushed the US Dollar Index higher.
According to the data released by the U.S. Bureau of Economic Analysis, US GDP rose 1.2% in 1Q17, better than its previous reading of 0.7%.
At 6:00 AM EST on May 29, the US Dollar Index was trading at 97.10, a fall of 0.14%.
Article continues below advertisement
US Treasury yields
The NYSE is closed on May 29 for Memorial Day. Last week, US Treasury yields were mixed and ended the week almost flat. Treasury yields were higher at the beginning of the week, but they fell as the week progressed.
US Treasury yields lost strength in the week after the release of the Federal Reserve's meeting minutes on May 24. Most Fed officials said that interest rates should be hiked given the supportive economic data, which dented the sentiment for Treasuries.
The slump in oil prices also weighed on Treasuries. Generally, higher oil prices increase inflation expectations, supporting Treasury yields.
In the last week:
The Ten-Year Treasury yield closed at 2.3.
The 30-Year Treasury yield closed at 2.9.
The Five-Year Treasury yield closed at 1.8.
The Two-Year Treasury yield closed at 1.3.
The iShares 20+ Year Treasury Bond ETF (TLT) rose 0.17%. The ProShares UltraPro Short 20+ Year Treasury ETF (TTT) and the ProShares UltraShort 20+ Year Treasury ETF (TBT) fell 0.39% and 0.38%, respectively, on May 26.