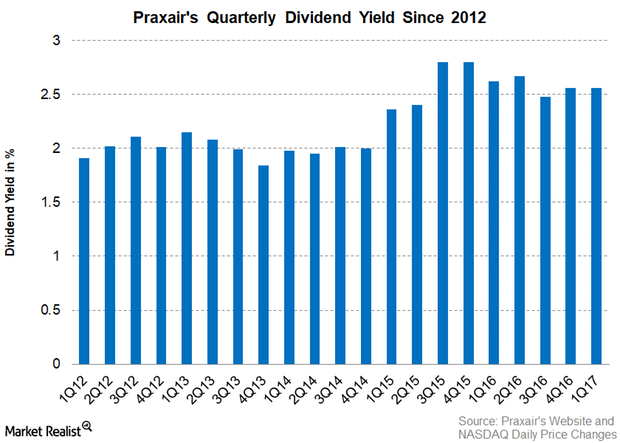 Understanding Praxair's Dividend Yield Today
By Peter Neil

May. 31 2017, Updated 3:05 p.m. ET
Praxair's dividend yield
The dividend yield measures a company's annual dividend per share, as compared to its price per share, indicating how much cash an investor could get for every dollar invested in a given company's equity. A high dividend yield is generally a good sign because it gives investors a stable income.
As of May 26, 2017, Praxair's (PX) stock price closed at $131.97. With PX declaring a 2Q17 quarterly dividend of ~$0.79 per share, PX's current dividend yield now stands at 2.38%. Air Products and Chemicals (APD) has a dividend yield of 2.64%.
Since 2012, Praxair's dividend has remained stable in the 1.9%–2.8% range. Praxair's current dividend yield of 2.38% is higher than the yields on one-year Treasury bills and qualifies it as a stable dividend-yielding company.
Article continues below advertisement
Dividend payout
Dividend payout can be calculated by dividing annual dividend per share by annual EPS (earnings per share) and is expressed as a percentage. The metric tells investors what percentage of earnings a company is paying out as a dividend.
Praxair's dividend payout has risen from 39.22% in 2011 to 57.6% in 2016. However, the biggest concern for Praxair investors today is the declining trend in the company's earnings per share—from $5.87 in 2013 to $5.21 in 2016. If this trend continues, higher payouts might hurt Praxair's future growth and expansion. In 1Q17, Praxair's dividend payout continued its upward trend and stood at 58.3%.
Investors can indirectly invest in Praxair by buying the ProShares Ultra Basic Materials ETF (UYM), which invests 4.4% of its holdings in PX. The top holdings of the fund include Dow Chemical (DOW) and DuPont (DD), which had weights of 7.9% and 7.8%, respectively, on May 26, 2017.
In the next part, we'll examine the analysts' latest ratings for Praxair.