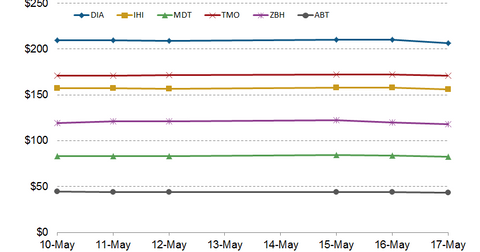 Trump Trade Fades amid Political Debacle: What's the Impact?
By Sarah Collins

Updated
The new political crisis on the market
On May 17, 2017, a memo written by former FBI (Federal Bureau of Investigation) director James Comey allegedly surfaced claiming that he was asked by President Donald Trump to dismiss an investigation into the links between the former national security adviser Michael Flynn and Russia.
This development follows the sudden firing of Comey by Trump and reports of Trump's disclosing classified information to the foreign minister of Russia. The political scandal is causing investors to lose hope in Trump's ability to implement his proposed policy reforms. The iShares U.S. Medical Devices ETF (IHI) fell ~1.3% on May 17, 2017.
Article continues below advertisement
What does Trump trade look like now?
As part of Obamacare, a medical device tax of 2.3% has been implemented on medical device companies in the United States. Though the tax has been suspended for 2016 and 2017, it will come into effect on January 1, 2018. The tax is expected to have a huge impact on US medical device companies because it will be assessed on gross sales and not on profits.
Trump has proposed repealing or replacing the medical device tax, but there hasn't been any concrete amendment or policy change. Moreover, given the recent political turmoil related to the Trump administration, hopes of seeing the proposed amendment have diminished.
Though most medical device companies refrained from detailing the tax benefits to be realized in the event of a repeal, investors' hopes for policy changes were reflected in the stock price rises in the industry following Trump's election. However, stock movements are more often linked with company-related events and other macroeconomic factors.
Most medical device companies witnessed falls in their stock prices on May 17, 2017. Large medical device companies Abbott Laboratories (ABT), Thermo Fisher Scientific (TMO), Becton, Dickinson and Company (BDX), and Medtronic (MDT) fell ~1.4%, 0.76%, 0.70%, and 1.9%, respectively.