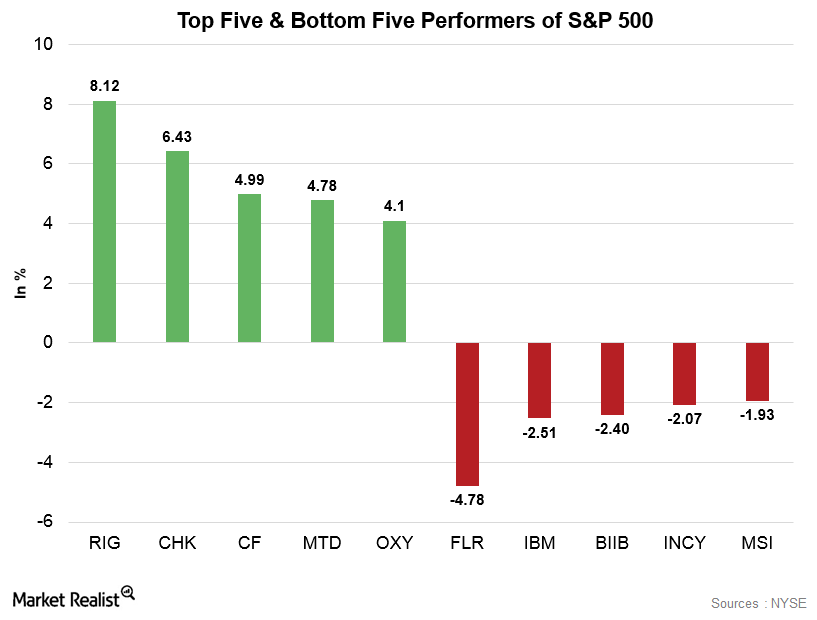 Why Did Transocean Report Weak Quarterly Results?
Top gainers and losers
The top gainers in the S&P 500 on May 5 were:
The top losers in the S&P 500 on May 5 were:
Article continues below advertisement
Transocean reported quarterly earnings
Transocean, one of the world's largest offshore drilling contractors, rose to one-week high price levels on Friday. The sentiment in Transocean stock wasn't great in January. Weak oil prices had a negative impact on the sentiment and dragged the stock to more than five-month low price levels. According to the first quarter report, earnings in the first quarter were $785 million—less than earnings of $974 million in the previous quarter. The company's earnings were better than expected revenue of $735 million. The adjusted profit per share was $0.01—a fall from earnings of $0.61 per share the previous quarter. The adjusted profit per share was better than the expected loss per share of $0.08.
Lower earnings with a fall in drilling activity weighed on Transocean's 1Q17 results. With weakness in the oil drilling industry, Transocean is focusing on cost-cutting measures. According to management, stable oil prices above $50 per barrel would spark demand from independent and natural oil drillers. On Friday, the rebound in oil prices supported Transocean. It fell at the beginning of the day due to weaker results, but regained strength and rose 8.1% to $11.18 amid a recovery in oil.
In the next part, we'll discuss how the US dollar and Treasuries performed in the early hours on May 8.