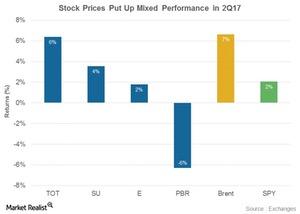 TOT, SU, E, PBR: Did International Integrated Energy Stocks Surge in 2Q17?
By Maitali Ramkumar

Updated
International integrated energy stocks' performance
Since April 3, 2017, Total (TOT) stock has risen 6%, beating its peers Suncor Energy (SU), ENI (E), and Petrobras (PBR). Suncor Energy and ENI rose 4% and 2%, respectively, in the same period. However, PBR has fallen 6% since April.
Among the broader market indicators, the SPDR S&P 500 ETF (SPY) and the SPDR Dow Jones Industrial Average ETF (DIA) rose 2% each in the same period. Both ETFs have ~6% exposure to energy sector stocks. Let's look at what led to such a mixed performance in integrated energy stocks.
Integrated energy stocks typically show high positive correlation to crude oil prices, which we'll discuss later in this series. Crude oil prices have been volatile in 2017, falling 3% in 1Q17. 
This trend seems to be reversing, especially with the recent rise in oil prices. Oil prices have risen 7% in 2Q17 so far. This could have boosted the integrated energy stocks' prices.
Oil prices rose during the week ended May 26, 2017, due to the possibility of additional oil cuts by OPEC members for the next nine months. Plus, crude oil and gasoline inventories dropped for the week ended May 19, 2017, according to data from the American Petroleum Institute. 
A crude oil rally could be in the offing if OPEC members agree to larger cuts for a longer timeframe. Also, if the EIA (U.S. Energy Information Administration) reports a similar fall in inventories, it could boost oil prices. To learn more, please read Is Oil's Upside Set to Continue?
Article continues below advertisement
1Q17 earnings
In 1Q17, crude oil prices on average have stood above their 1Q16 levels. As a result, upstream earnings improved year-over-year from the integrated energy companies.
Strong upstream earnings led Total (TOT) and Suncor Energy (SU) to beat their 1Q17 earnings estimates. A better set of numbers could have supported their stock prices in the current quarter. Although Petrobras (PBR) reported a healthy set of numbers, its earnings fell short of the consensus estimate.
Series overview
In this series, we'll perform a cross-sectional analysis of international integrated energy stocks. We'll compare their dividend yields, forward valuations, changes in institutional holdings, and short interest shifts. We'll also examine their implied volatility changes, beta status, analyst ratings, and change in correlation with WTI in May 2017.
In the next part, we'll see where these stocks stand in relation to their 50-day and 200-day moving averages.