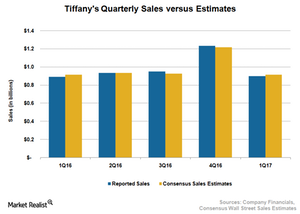 Why Tiffany's Fiscal 1Q17 Sales Missed Wall Street Estimates
Comps fell across all regions
Tiffany's (TIF) fiscal 1Q17 sales of $0.9 billion fell short of Wall Street's consensus estimate but rose ~1% driven by growth in fashion jewelry and increased sales in mainland China (FXI). However, weak consumer spending and geopolitical challenges led comps to fall across all regions, which we'll discuss more in the next part of the series. Rival Signet (SIG) is also seeing comps fall amid weak mall traffic.
Article continues below advertisement
Digging deeper
Amid a tough operating environment, Tiffany has been able to increase its sales in the past three quarters. However, the pace of growth remains disappointing. Much of this softness could be attributed to the lower tourist spending mainly in the US (SPY) and the consumer shift towards low-priced fashion jewelry.
By product category, the company's fashion jewelry (non-gemstone gold and silver jewelry) segment continued to perform well. Management noted that the company's gold jewelry sales drove the overall category growth with strong sales in its T collection. Plus, silver jewelry also saw an improvement driven by the return of the Tiffany collection. Given the success of its T collection and initial traction in its newly launched hardware collection, management plans to introduce more designs in these categories in the coming quarter. Moreover, the company's designer jewelry collection, which includes designs by Elsa Peretti and Paloma Picasso, also reported healthy sales in fiscal 1Q17.
On the other hand, the high fine and solitaire jewelry category and the engagement and wedding bands category continued to disappoint on the sales front. The Victoria collection saw improvement during the quarter. However, the category has seen declines in other collections. Lastly, the company's watch segment also witnessed increased sales.
Guidance
Going forward, Tiffany expects to drive its top-line growth through square footage expansion, new design launches in the fashion jewelry segment, the launch of its luxury accessories, new signature fragrances for women, store remodeling, and enhanced marketing. The company expects sales to rise in the low single digits in fiscal 2017.
However, adverse currency movements and continued weakness in the US, Europe, and Hong Kong will drag the results down.