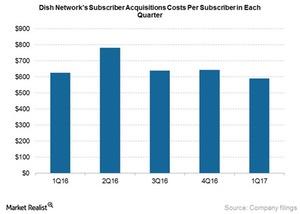 These Factors Are Driving DISH's Subscriber Acquisition Costs
By Shirley Pelts

Updated
Factors affecting DISH's ARPU
DISH Network's (DISH) falling pay-TV subscriber base is also affecting its ARPU (average revenue per user) and subscriber acquisition costs.
DISH's pay-TV ARPU was $86.55 in 1Q17, a fall of 1.6% over 1Q16. DISH expects the fall in its ARPU to continue. The company elaborated on this expectation on its 1Q17 earnings call.
According to DISH, as subscribers for its Sling TV service have continued to rise, they're buying lower priced packages compared to its pay-TV subscriber base. This trend is bringing down the ARPU of DISH's total subscriber base. DISH calculates ARPU by dividing its average monthly revenue per subscriber by its average pay-TV subscriber base for a given period.
DISH also pointed out that some of its pay-TV subscribers are opting for cheaper pay-TV packages, a practice known as cord shaving, which is further increasing the pressure on its ARPU. 
Article continues below advertisement
DISH also said that while its introduction of the Flex Pack increased the pressure on its ARPU, it still believes that the offering will help it to reduce its subscriber churn and expand its operating margin. The Flex Pack offers consumers a basic bundle of 50 channels and one additional pack of channels for $39.99 per month.
Subscriber acquisition costs
Subscriber acquisition costs are costs incurred by a company to acquire new subscribers or retain existing ones. Advertising spending is a key component of subscriber acquisition costs, as are the costs incurred by DISH Network to install HD (high definition) and DVR (digital video recorder) receivers.
DISH had subscriber acquisition costs (or SAC) of $590 in 1Q17, a fall of 5.6% over 1Q16. DISH expects its SAC to continue to fall because as its Sling TV viewer base increases, the cost of acquiring Sling TV subscribers will be significantly lower than it is to acquire pay-TV subscribers. DISH also stated on its 1Q17 earnings call that it's more focused on acquisitions and the retention of high-quality subscribers for its pay-TV business.
DISH makes up 0.07% of the SPDR S&P 500 ETF (SPY). SPY has an exposure of 4.4% to the computers sector.